Propane Appliances
Increase efficiency and reduce your monthly energy bill with the help of propane-powered appliances like dryers, ranges, cooktops, water heaters, and furnaces. Powering your home with propane means less hassle and more time enjoying moments together as a family.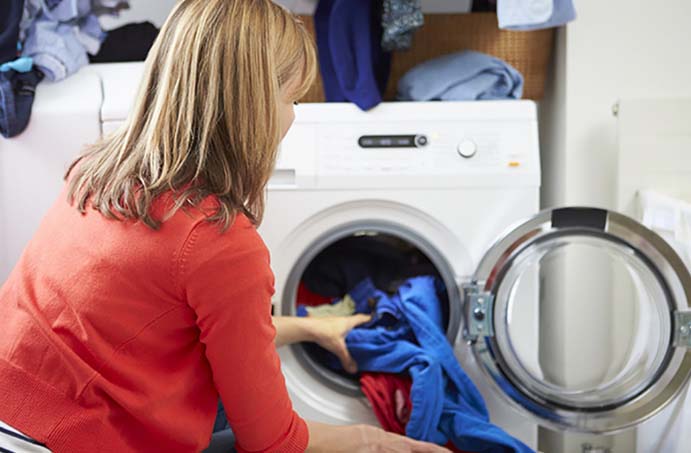 Benefits of Propane Appliances
Cost-Efficient
No matter the square footage of your home, high-efficiency propane appliances can reduce your annual energy costs.
Environmentally Friendly
Compared with electricity, propane lessens the impact on the environment with cleaner operation. It even reduces greenhouse gas emissions by 43 percent.
Consistent Heating
Whether you're simmering tonight's dinner, running a hot bath, or drying clothes, propane allows for precise temperature control and even levels of heat.
Greater Temperature Control
High-performance propane gas ranges, cooktops, and ovens are preferred by most chefs because cooking with propane allows for greater temperature control.
Find a Location
Enter your ZIP code to find the closest Ferrellgas provider in your area.
Question? We can help.
Contact us for quotes, questions, or any assistance you might need.
Contact Us
Propane-Powered Appliances
Propane Gas Dryers
Gas dryers maximize the use of energy, helping you reduce energy consumption in your home. Thanks to the affordable cost of propane, you'll see a reduction in your monthly energy bill.
5 reasons propane dryers are better than electric:
Propane dryers save 20 percent in average energy costs annually, compared with electric dryers, making them an efficient and convenient option.
Gas dryers produce more hot air with moisture than electric dryers. Innovative steam cycles help relax wrinkles, which means less ironing.
Available in different capacities, propane dryers come with burners ranging from 18,000 BTU/H up to 30,000 BTU/H. This translates to faster drying times compared to electric dryers that only provide heating output levels on the low end of this range.
Moisture sensors prevent over-drying of clothes, which not only keeps your clothes in great condition but also saves additional energy.
A propane clothes dryer saves nearly one ton of carbon dioxide over its lifetime compared with an electric model.
Propane Ranges, Cooktops, and Ovens
High-performance gas ranges, cooktops, and ovens are preferred in kitchens of all kinds. Propane offers greater temperature control and helps ensure perfectly prepared meals by the chef in your family. With a wide variety of product designs available, propane-powered appliances are the ideal choice for any chef, from starter-home to professional kitchen.
5 reasons why propane stoves are better than electric:
Compared with electric cooking appliances, propane can save you $80-$120 in annual energy costs.
Whether you're searing or simmering, propane allows for precise temperature control and more even levels of heat.
Instant-on burners allow cooking to start right away. They also offer an instant-off feature that quickly cools down the cooktop to prevent overcooking.
Both new construction and remodeling are made simple with flexible corrugated stainless steel tubing gas lines, which are easily routed to the equipment's location.
Propane ranges and cooktops emit approximately 30 percent fewer carbon dioxide emissions than electric units.
Propane Water Heaters
Soak up greater energy savings, higher performance, and a reduced carbon footprint by switching your home to a propane-powered water heater. Both storage tanks and tankless propane water heaters provide exceptional benefits compared to electric and oil heating units.
5 reasons propane water heaters are superior to electric:
Propane-powered water heaters use less energy, cost less to operate, emit less carbon dioxide, and take up less floor space.
A 40-gallon propane water heater delivers the same amount of hot water as a 50-gallon electric unit.
Tankless propane water heaters deliver endless amounts of hot water because water is only heated when you need it.
ENERGY STAR® propane units save about 13-16 percent in annual energy costs compared with electric and heating oil units. Tankless units save more than $150/year in energy costs compared with electric storage models.
Propane-fueled tankless water heaters produce 50-60 percent lower carbon dioxide emissions compared with similar electric systems.
Propane Furnaces
Provide your family consistent and comfortable home heat while saving on energy and cost with a high-efficiency propane furnace.
5 reasons to switch to a propane furnace:
Delivering temperatures up to 140 degrees, propane furnaces have a reputation for noticeably warmer comfort compared to an electric heat pump.
Propane furnaces are more efficient than oil-fueled furnaces. In general, oil furnaces produce heat at about 60 percent efficiency, meaning that for every dollar you spend on heating oil, you'll only get about 60 cents worth of heat. On the other hand, propane furnaces are much more efficient, with typical efficiency ratings of 90 percent and above.
Appliances and furnaces that run on propane generally have a longer life span, making them a cost-efficient, long-term choice.
Propane furnaces also maintain efficiency over time better than their electric counterparts.
Propane furnaces reduce greenhouse gas emissions by 22 percent when compared with electric heat pumps, particularly in areas where electricity is produced by coal-fired power plants.
Propane vs Electric Heat: Is It Worth Converting to Propane?
When it comes to your home, you want to make sure it's a safe, comfortable place for your family and a warm, inviting space for your friends. Have you ever thought about switching from electric to propane-powered heat as a way to do that? By converting to propane, you'll find an easy, low-cost way to keep your home warm and comfortable all winter long. Listen as Mike shares his story of switching his house from electricity to Ferrellgas propane.
Recommended Service for Consistent Usage
Auto Fill with Digital Tank Monitoring
Enjoy propane peace of mind with our most convenient delivery option.
Hassle-free, year-round service with state-of-the-art fuel technology
Ferrellgas professionals monitor tank usage and automatically schedule refills
View your tank level anywhere, anytime via our app
Pair this service with Budget Billing and/or AutoPay options