Propane Fireplaces
Cozy up to a propane fireplace and enjoy the comfort and ambiance of a roaring fire with none of the hassle. Trade hauling wood and chilly electrical outages for reliable environmentally-friendly warmth at the flip of a switch.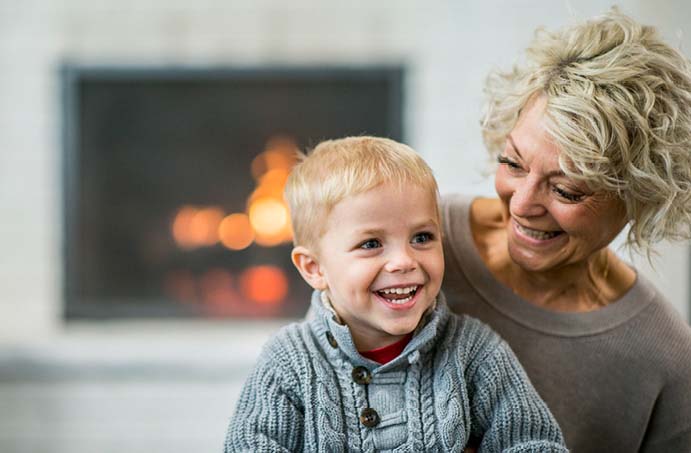 Benefits of Propane Fireplaces
Larger Heating Capacity
Propane fireplaces deliver five times the heating capacity of electric or wood-burning fireplaces.
High-Efficiency Levels
Propane-powered fireplaces offer Fireplace Efficiency (FE) ratings of more than 90 percent. By comparison, wood-burning fireplaces only offer 15 percent.
Environmentally Friendly
Propane has a smaller environmental footprint. It produces fewer particle emissions and less carbon monoxide than wood-burning units.
Find a Location
Enter your ZIP code to find the closest Ferrellgas provider in your area.
Question? We can help.
Contact us for quotes, questions, or any assistance you might need.
Contact Us
How much propane does an indoor fireplace use?
When used occasionally, indoor fireplaces typically use 25-75 gallons per year. When used for space heating to offset furnace costs, indoor fireplaces use an estimated 150-200 gallons per year.
Is a pilot light needed to operate a propane fireplace?
No, automatic ignition allows the propane unit to efficiently and safely start the fireplace without a standing pilot light.
How often should I get my propane gas fireplace serviced?
We recommend having a propane professional clean and check your fireplace once a year prior to the next heating season.
Recommended Service for Consistent Usage
Auto Fill with Digital Tank Monitoring
Enjoy propane peace of mind with our most convenient delivery option.
Hassle-free, year-round service with state-of-the-art fuel technology
Ferrellgas professionals monitor tank usage and automatically schedule refills
View your tank level anywhere, anytime via our app
Pair this service with Budget Billing and/or AutoPay options
Recommended Service for Occasional Usage
Will Call
Get the propane you need on your schedule.
Monitor your own tank and propane usage
Decide when it's time to schedule a refill
Call the Ferrellgas experts when you need fuel
Great for low and occasional usage
Get in touch with us today for your propane needs!
Contact Us