Autogas Buses & Fleet Vehicles
Propane provides fleet managers with cost-effective, clean, safe, and reliable alternative fuel. If you are ready to switch to propane, our dedicated Account Managers are here to build the right plan to keep your fleet on the road. You can count on Ferrellgas to make your transition to propane autogas a success.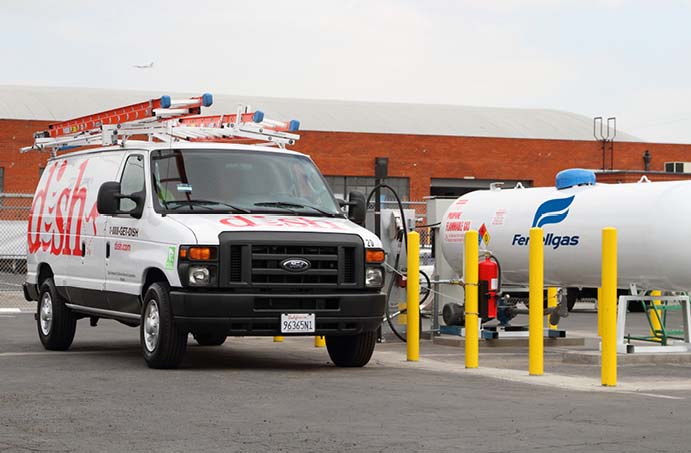 Benefits of Propane Autogas
By fueling with propane autogas, your fleet will have the same performance as gasoline- or diesel-powered vehicles with less downtime for maintenance.
Better for Your Bottom Line
Propane autogas offers business fleets significantly lower costs of ownership and infrastructure. With these savings, you'll enjoy a solid return on investment before receiving any tax incentives.
To calculate the difference, use this online Fleet Cost Calculator, courtesy of propane.com.
Maintenance
The requirements for propane autogas vehicle repair are generally the same as those for conventionally fueled vehicles, making the switch for your maintenance team quick and cost-effective.
Hundreds of Certified Vehicles
Hundreds of propane autogas vehicle models and configurations, from cars to heavy trucks, have been EPA- and CARB-approved, including ones for applications that occasionally require traditional fuels.
Clean & Green
Rest assured knowing your business fleets minimize greenhouse gas contribution by fueling with propane autogas.
Industry Experience
With over 80 years of propane industry experience, Ferrellgas is here to support your team through the transition, including training of our simple-to-operate autogas dispensers and safety protocols.
Find a Location
Enter your ZIP code to find the closest Ferrellgas provider in your area.
Fuel Your Fleet with Propane Autogas
Propane Fleet Vehicles
Fuel your fleet with the same performance as gasoline- or diesel-powered vehicles but with less downtime for maintenance by switching to propane autogas.
School Buses
School administrators, fleet managers, and parents across the country are turning to safe propane autogas to transport their children in buses that make a difference in the world and to the budgets of their classrooms.
Learn more about why America's school districts are turning to propane autogas:
7 Reasons America's School Districts are Turning to Propane Autogas
Propane Lawn Mowers
Outdoor equipment manufacturers across the country are waking up to the benefits of propane. No matter the size of your mower fleet, propane can transform your business by affecting the bottom line.
Learn more about how you can have a fleet as green as the grass you're mowing with
Propane Mowers & Landscaping
.
Propane Autogas vs. Diesel: Switching Your Fleet to an Alternative Fuel
School districts are choosing a propane autogas fleet because when it comes to saving money and providing drivers and students with better conditions, propane autogas is a clear winner over diesel. Learn why Fort Zumwalt chose propane as the alternative fuel for their school buses.
*Find these stats and more about how propane autogas is used at Propane.com.