Commercial Propane
Ferrellgas is more than just a propane provider. We're your partner to get you the fuel you need so you can focus on your customers.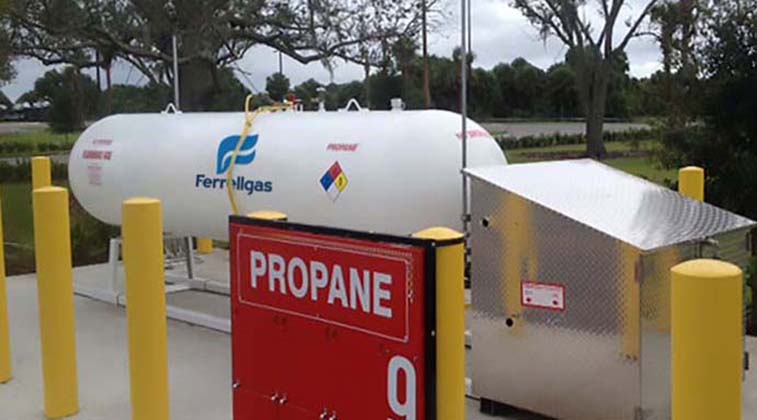 Why Partner with Ferrellgas?
Your Partner in Propane
Your business is unique. So is Ferrellgas, for we will work to understand your needs and prepare a plan that suits your business.
Service Your Business Deserves
Whenever you have a question or need support, we have a team of friendly propane experts ready to assist. After hours? Yes, we have a 24/7/365 team dedicated for emergency service.
Nationwide Propane Supply
Backed by a nationwide supply, you can count on Ferrellgas to have the propane your business needs when you need it.
Find a Location
Enter your ZIP code to find the closest Ferrellgas provider in your area.
Commercial Propane Services to Make Your Life Easier
Authorized Resellers
Increase foot traffic in your business by offering propane from an industry leader that keeps employees warm, businesses running, and customers happy. As a Ferrellgas Authorized Reseller, you'll be backed by a nationwide supply and a network of knowledgeable technical and advertising support.
Autogas Buses & Fleet Vehicles
You can count on Ferrellgas to help transition your fleet to a cost-effective, clean, and reliable alternative fuel without losing performance.
Our dedicated Account Managers are here to build the right plan to keep your fleet on the road longer with Propane Autogas Buses & Fleet Vehicles.
Construction
Don't let the weather ruin your day. Let Ferrellgas solve your
Construction Temporary Heat
problems, so you can keep your project and budget on time.
Hospitality
When working with Ferrellgas, you can count on industry-leading service and reliable propane delivery so you can focus on the best experience for your customers.
Industrial
The benefits of propane in industrial operations are only matched by Ferrellgas' excellent service. We'll do the heavy lifting so you can focus on your customers.
Learn more about our Industrial Propane Programs and how our dedicated Account Managers can help you get the job done right.
Mowing & Landscaping
Outdoor equipment manufacturers across the country are waking up to the benefits of propane can have on your business's bottom line.
Learn more about how you can have a fleet as green as the grass you're mowing with Propane Mowers & Landscaping.
National Accounts
When it comes to your business, time is money. That can become even more of an issue when you own or manage multiple regional or national locations. That's where Ferrellgas National Accounts customers have a big advantage.
Learn more about how Ferrellgas National Accounts can help consolidate buying power and propane at all of your locations.
Offices & Buildings
Rest assured knowing you have a partner for reliable propane delivery so you can keep employees warm, businesses running, and customers happy.
Residential Builder
In commercial construction, propane provides fuel for energy-efficient gas space heating, water heating, cooking, fireplaces, and clothes drying, though it can also fuel a variety of other building needs. Propane is versatile, and it's easy to incorporate into a construction project.
Schools & Churches
Low-emission propane heating is an ideal fit for a parish or school district interested in reducing both its energy bills and its environmental impact.
How Selling Propane Can Increase Foot Traffic for Your Business
As a busy business owner, DJ needed a partner he can depend on. That's why he chose Ferrellgas to provide the propane he needs. Hear more about DJ's experience working with Ferrellgas and how we're committed to helping bring customers in the door.
Learn how Ferrellgas can help your business.
Contact Us