Management Development Program
Our rotational, "hands-on" Management Development Program (MDP) provides trainees with immediate responsibility and the opportunity to identify and apply important business operations and growth strategies. The Management Trainee position is designed to provide candidates with broad experience with our Ferrellgas and Blue Rhino brands, processes, and operations to prepare them for positions of greater responsibility. Our best-in-class development curriculum is a staple of the program and gives candidates not familiar with business operations or the industry, foundational knowledge.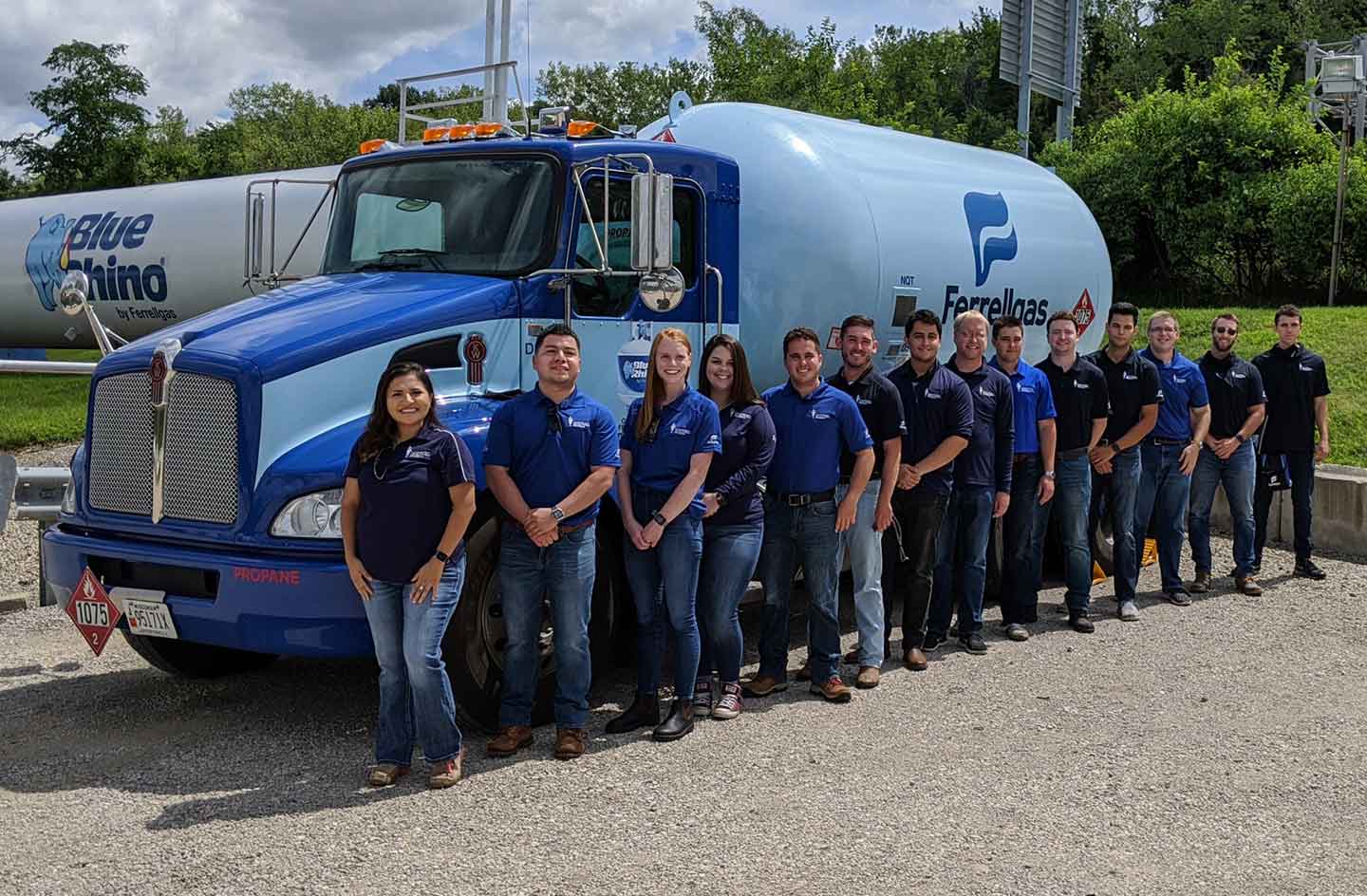 As a Management Trainee, you will learn the framework of our company's functions and operations through a 12-week comprehensive program. You will work alongside our existing management teams to gain valuable experience necessary for future growth and success within our company.
Management Trainees will be developed to take on positions such as:
Logistic Supervisors
If you are an innovative, out of the box thinker, interested in transportation, able to execute a plan on the fly, and make sure our customers have what they need, a Logistics Supervisor position may be right for you.
A day in the life of a Logistics Supervisor typically includes:
Proactive management of delivery schedules for customers, understanding timing needs and constraints.
Building relationships, communicating, and engaging with drivers, local management, and sales team to develop delivery strategies for customers.
Multitasking to handle the unexpected out of gas calls, customer concerns, as well as equipment and employee issues.
Managing data flow into routing and tracking systems.
Driving key performance indicators (KPIs).
District Managers
Demonstrating a high sense of urgency, handling competing priorities, having operational and safety acumen, and adapting to change are key components to success in this role. If this sounds like you, then we invite you to become a District Manager.
A day in the life of a District Manager typically includes:
Direct responsibility for all commercial activity.
Motivating operations teams to achieve business goals.
Developing and coaching direct reports, including Delivery Drivers, Service Technicians, and Material Handlers.
Ensuring compliance with applicable governmental regulations, as well as Ferrellgas safety standards and practices.
Finding and capturing opportunities to innovate and profitably grow the business.
Fostering existing relationships and develop profitable, new relationships with customers.
Leading a team to drive results. Engages and motivates team members into accomplishing goals while putting safety first.
Making decisions on a daily basis to ensure customer needs are met.
Service Schedulers
Motivated by a customer-focused mindset of continuous improvement, Service Schedulers find solutions to problems. If you have excellent technical judgement and communication skills, this could be the role for you.
A day in the life of a Service Scheduler typically includes:
Coordinating resources such as employee schedules alongside operations supervisors.
Managing pre-installations, including site plan drawings and construction permits.
Proactive management of construction process, including bids and negotiations.
Mediating between Ferrellgas, customer, builder/contractor, and permitting agency.
Fostering customer satisfaction through seamless service and excellent communication.
Analysts
If you're interested in analyzing complex data, uncovering data trends, and driven to create solutions with utilizing metrics, then an Analyst could be a role for you.
A day in the life of a Analyst typically includes:
Analyzing data to help leaders drive decisions.
Providing perspective or trends based on data and metrics.
Ensuring data is accurate and consolidates data for easy understanding.
Articulating themes and performance drives.
Become the Name Behind the Flame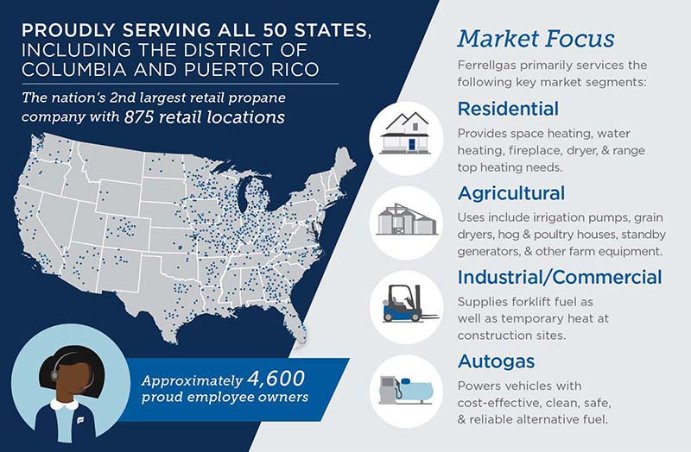 What is Propane?
Propane is a reliable energy source that is used every day by millions of people worldwide. Customers enjoy the value propane gives them for their energy dollars, and appreciate its environmentally friendly, clean-burning properties.
Propane Made Easy
We're more than just a propane provider. By leveraging our reliable nationwide supply, passionate professionalism, and employee-owners, we're able to provide effortless service – making propane easy for customers everywhere. The jobs we provide, homes we heat, businesses we support, and communities we service are all part of the Ferrellgas family, and all ways we fuel life simply.