Understanding the various propane tank sizes
Understanding what propane tank size you need can cause you a lot of stress. Luckily, our nationwide team of experts can help you make the decisions to get the most out of your propane.
We have plenty of options for those of you who require flexibility. Check out our many offerings before you contact us!
What propane tank size is right for you?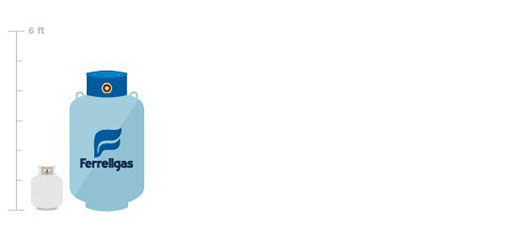 120-gallon (420-lb) propane tank size:
A standard 120-gallon propane tank is primarily designed for hot water heaters, fireplaces, home appliances, or space heating for homes. Other uses can also include powering a range or clothes dryer.
54.5" height and 30" in diameter
Holds 96 gallons of propane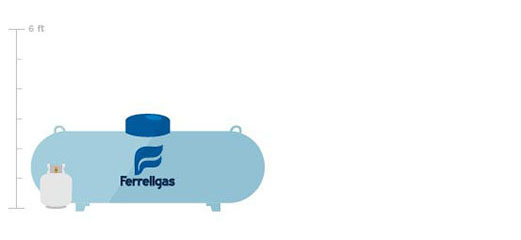 250-gallon propane tank size:
Designed for moderate propane uses, a 250-gallon horizontal propane tank can support appliances such as a clothes dryer, fireplace, and stove, and is sufficient for a heating system for modest-sized homes.
7'10" long and 30" in diameter
Holds 200 gallons of propane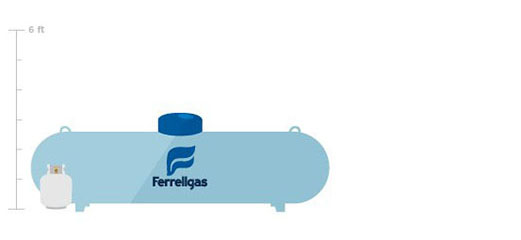 325-gallon propane tank size:
A compromise between the 250-gallon and 500-gallon tanks, the 325-gallon propane tank is the perfect fuel source for backup generators, or some smaller homes that use less than 500 gallons of propane per year.
10' long and 30" in diameter
Holds 260 gallons of propane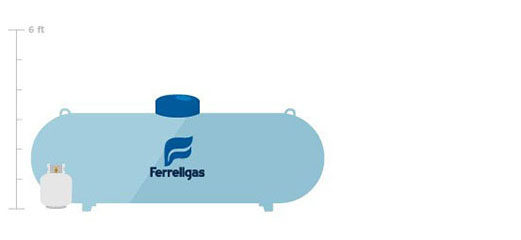 500-gallon propane tank size:
A 500-gallon tank's main use comes from providing power to central heating and small commercial projects.
9'11" long and 37.5" in diameter
Holds 400 gallons of propane
Wondering why your propane tank can't be filled full?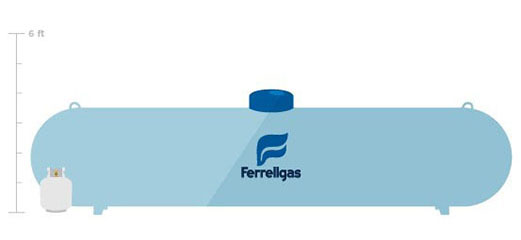 1000-gallon propane tank size:
Thousand-gallon tanks are generally reserved for large industrial and commercial projects, as well as for home heating.
16'1.5" long and 41" in diameter
Holds 800 gallons of propane
As a note, all propane tanks should be a minimum of 10 feet away from your home, with larger tanks installed even further away. Dimensions of a tank can vary based on manufacturer. For full safety information on Container Distance Requirements, please reach out to your local Ferrellgas office.
---
Where to install your propane tank?
When you rent a propane tank from us, we give you the choice of placing it above ground or underground. There are plenty of benefits to both, and your final choice depends on the vision for your property.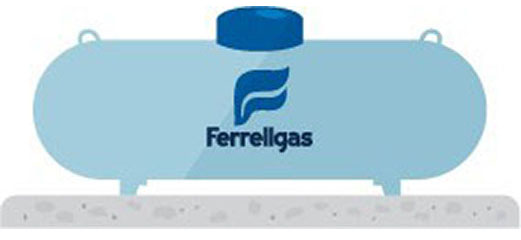 Above Ground Propane Tank Benefits:
Built to endure harsh weather and elements

Easy to maintain and service

Doesn't require digging into your yard
Underground Propane Tank Benefits: 
Doesn't take up valuable space in your yard

Quick installation process, done by a Ferrellgas expert
As a note, most underground tanks are sold new to our customers. Select Ferrellgas locations may allow you to lease an underground propane tank. Please speak with a Customer Service Specialist for more information.
---
Other Common Propane Tank Sizes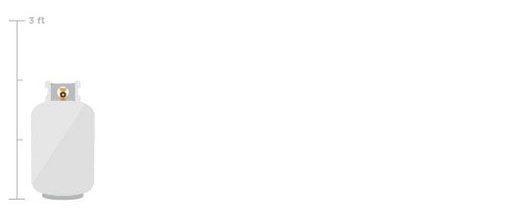 RV Propane Tank:
RV propane tank is the essential fuel for your RV. It helps to keep your fridge and hot water running, and to power your furnace and stove burners.
Two types of RV propane tanks: the ASME (American Society of Mechanical Engineers) (permanent) and the DOT (Department of Transportation) (removable)

Common sizes are 20-lb: 18" long and 12.5" in diameter, 30-lb: 24" long and 12.5" in diameter, 40lb: 29" long and 12.5" in diameter

18" height and 12" in diameter

33lb -  26.75" height and 12.5" in diameter

43lb - 33.3" height and 12.2" in diameter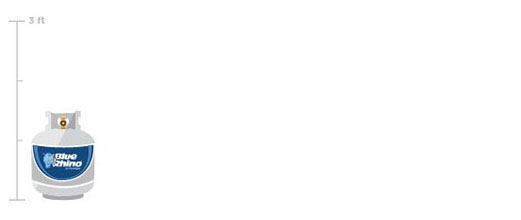 Portable Grill Tanks:
Portable grill tanks are perfect convenient propane source for your backyard grills and portable grills. 20-lb. is the size you can find at Ferrellgas.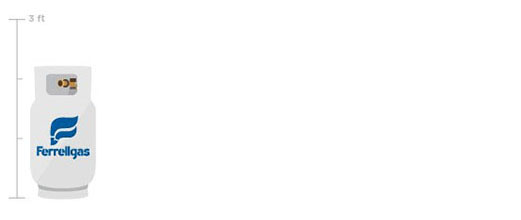 Forklift Propane Tanks:
Propane forklifts are commonly used in the warehouse, construction, and agricultural industries. At Ferrellgas we sell and fill both 33- and 43-pound tanks.
---
Let the experts help you
While there are some important matters to consider and choose from, you can always rest easy knowing that the propane professionals at Ferrellgas have worked with customers for more than 80 years now to determine the best tank size solution. Give your local Ferrellgas office a call today to start the conversation.