Crop Drying & Tobacco Curing
Efficiency is key, especially during short harvest seasons, to make a positive impact on your bottom line. Propane's strong and versatile heat offers the most consistent drying and curing option, allowing you to get the job done quickly and accurately.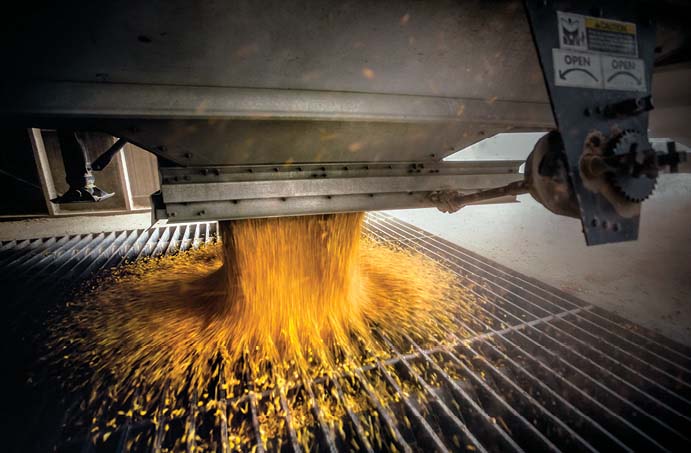 Benefits of Propane Drying & Curing
Cost-Efficient Drying & Curing
One of the main advantages of using propane to fuel your grain dryers is affordability. Allow our dedicated Account Managers to build a customized plan and quote that best fits your farm's needs.
Calculate your propane usage with this online Grain Dryer Propane Use Calculator, courtesy of Propane.com.
Energy Efficient
New propane-powered grain dryers offer increased consistency while using nearly 50 percent less thermal energy to get the job done.
Quality & Reliability
Grain drying with propane reduces crop exposure to weather and over-drying, resulting in increased grain quality and higher yields.
Choice Fuel
Utilizing a clean-burning fuel, like propane, eliminates soot build-up resulting in less maintenance and a more environmentally-friendly operation.
Find a Location
Enter your ZIP code to find the closest Ferrellgas provider in your area.
Propane Agriculture Services to Make Your Life Easier
Crop Drying
More than 80 percent of grain dryers use propane, and save time, money, and bushels.
Here's why:
Propane-fueled grain drying units offer increased consistency by distributing very precise heat, which ensures that grain is dried more evenly.
New propane-powered grain dryers use nearly 50 percent less thermal energy to get the job done.
Propane dryers require as little as 1,650 British thermal units (BTUs) to remove one pound of water, compared to 3,500 BTUs with older technologies.
Grain drying with propane reduces crop exposure to weather and decreases over-drying, resulting in increased grain quality and higher yields.
Research shows propane is the top choice among farmers for grain drying, thanks to its reliability and environmental friendliness.
Tobacco Drying & Curing
Tobacco curing has long been considered an art. Turning ripe, harvested tobacco into high-quality cured leaves with the aroma and flavor manufacturers desire can be a challenge. Almost all tobacco curing barns have been equipped with propane since the early 1970s and for good reason.
Here's what makes propane a valuable component of tobacco curing operations:
The consistent heat that propane offers is essential for creating a controlled environment for curing tobacco. Airflow, temperature, and humidity must all be at the right levels, and the reliability of propane is beneficial for this.
Propane heat can easily be monitored and adjusted, which makes it an efficient, cost-effective choice for tobacco farmers.
Propane gas and air mix better during combustion than oil and air, which makes use of propane for tobacco curing much more efficient than traditional methods.
Propane has become the primary fuel used to cure tobacco, replacing wood and accounting for more than 70 percent of production.
Cannabis Drying & Curing
Propane provides consistent heat in low-emission, plant-safe conditions necessary for cannabis growth while helping you cut fuel costs. Producing up to 72 percent fewer sulfur oxide emissions than electricity, propane-powered generators are the ideal choice for your greenhouse operation.
Here's why propane makes a difference in cannabis operations:
Eliminates the need for electrical or natural gas lines, allowing you to expand your operation virtually anywhere.
The reliable performance of propane is ideal for growing plants that demand a very specific temperature throughout their environment.
Propane can help you lower fuel costs every season. Modern building heaters are up to 11 percent more efficient than older models.
Propane is non-toxic for plants, plus it's a very low-emission fuel source, delivering a greener operation all around.
An odorant is added to propane for safety purposes. It can only be detected if there is a leak. It does not impact the health or growth of plants in any way.
The Propane Supplier Fueling Local Businesses
Propane plays a large part in fueling the operation at Pitts Gin in Pitts, Georgia. Thanks to Ferrellgas' quick response time, excellent customer service, and abundance of delivery and service options, the days of waiting for propane are over.
*Find these stats and more about the energy-saving benefits of propane grain dryers, tobacco, and cannabis curing at Lpg-apps.org and Propane.com