Fueling What Matters to You

At the end of the day, propane is propane. That's not why you choose us.
Our customers stay with Ferrellgas because we get to know their business needs and ask about their day when they call – like any good partner would.  Our products and services empower innovators across the country to reach new heights.
More Than Propane
We're more than just a propane supplier. We're part of tight-knit communities across America and thousands of people's lives. Not only through the jobs we provide, our local involvement or personal interactions, but also when families cook breakfast together, when a business opens up for the day, or when fleet vehicles get started using the fuel we provide.
Local Support, National Supply
Our teams live in the communities they serve. Yes, they are best-in-class trained professionals, but they are also friendly, familiar faces who take pride in providing the best service possible. Ferrellgas was founded nearly 80 years ago by a hard-working family in Atchison, Kansas and grew to be the largest employee-owned propane leader in the nation. That means that we'll do what it takes to take care of our friends and customers, and we've got the trucks and supply to do it.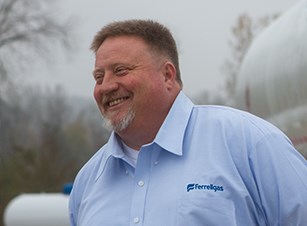 Visit Our Blog For More
Meet some of the dedicated people who go above and beyond for their customers, learn about seasonal propane tips and business insights, and discover recipes for all occasions.
Read Tank Talk