Benefits & Culture
Employees have always been the heartbeat of Ferrellgas, which was founded nearly a century ago as a family-owned business in a small town. Today, these employee-owners make up a national network of impassioned propane professionals who dedicate their day-to-day to making our customers' lives easier. We are an entrepreneurial company at heart, empowering employees to exchange ideas, solutions, and explorations regardless of level or department. We are a data-driven company, and never stop seeking opportunities for improvement and encourage our employees to challenge practices no longer fitting in our constantly evolving world. Ranked among Forbes Best Employers in America 2017, Ferrellgas knows dedicated superior service starts with supported employees. Our generous benefits program offers a wealth of resources from your health to your retirement.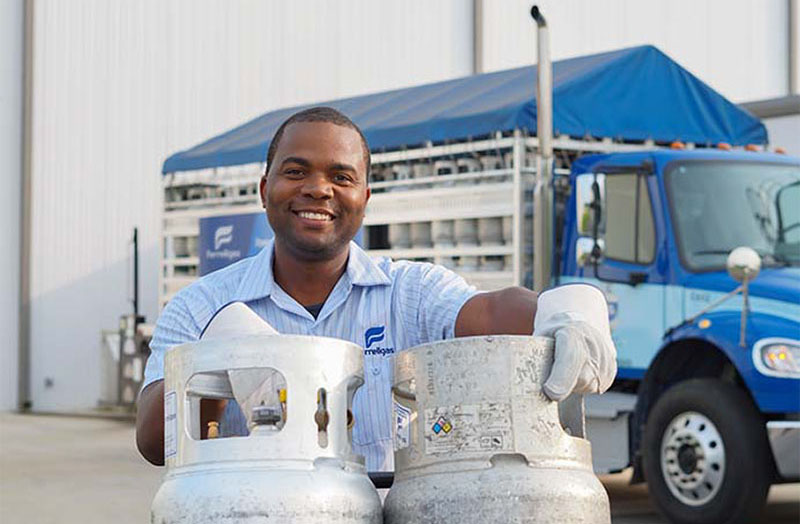 Genuine care for your work – and your life
Worklife Balance
We are a company of human beings who have lives, priorities, and dependents outside of our careers. We work cooperatively with our employees to strike a balance, knowing the best customer support begins with well-rounded individuals who are able to achieve and enjoy every part of their life.
Employee-Owned
Our employees are our owners. After your first year, you own a piece of our company in the form of an employee stock ownership plan (ESOP), a high-impact benefit contributing to your retirement. That way, when our company is profitable, so are the employees who worked hard to build it.
Professional Development
Continued education for our employees is a priority with several formats that fit unique needs. From traditional tuition reimbursement to monthly live webinars to hundreds of online classes to our driver trainee program (opportunity for CDL and endorsement reimbursement) – we strive to ensure our employees can grow in their career knowledge.
Diversity and Inclusion
We find strength in our diversity and take pride in the vast array of talents, backgrounds, and perspectives of employees from every corner from the United States. We are committed to fostering an environment that is engaging and inclusive, developing diverse talent at all career levels.
Community Involvement
From our nationwide charitable partnerships of Operation Warm and Operation BBQ Relief to the fundraisers for local schools, fire departments, veteran organizations and more, we are always looking for ways to give back to the communities we serve.
Company Clubs & Committees
The adoption of technology allowed us to create companywide clubs and committees to strengthen culture and provide opportunities to work on matrix-based projects. From the Book Club or Movement Club to the Employee Engagement Committee, you have opportunities to connect with team members across the country.
Health & Wellbeing
Through health benefits and wellness initiatives, we show our commitment to you and your family.
Medical, dental, vision, and prescription plans for employees and eligible dependents
Employee Assistance Program (EAP) offers support, guidance, and resources to help you find the right balance between your work and home life.
Flexible Spending Account (FSA) and Health Savings Account (HSA) options available
Wellness credit that provides additional money paid to assist with benefit premium*
Paid parental leave
Paid life insurance, with spouse and child life insurance add-ons
Paid short term and long-term disability plans
Wellness program
Healthy living competitions and programs
*Certain requirements apply.
Retirement & Financial Wellbeing
401(k) retirement plan with generous company match
Employee Stock Ownership Plan (ESOP): 100% employer-funded retirement account*
Incentive bonus opportunity*
Tuition reimbursement program*
Sign-on bonuses for a variety of positions
Promote within opportunities
*Certain requirements apply.
Time-off Programs
Generous paid time off (including holidays)
Remote work opportunities for various positions*
*Certain requirements apply.
Propane Discounts
Employee Propane Discount
Friends and Family Propane Discount
Part-time & Seasonal Benefits
Our part-time team members are important to us too! That's why we break tradition and extend some key benefits to you.
401(k) retirement plan with generous company match
Employee ownership stock plan
Paid time off (including holidays)
Propane discounts for you and your family and friends
Question? We can help.
Contact us for quotes, questions, or any assistance you might need.
Contact Us