Cooking with gas: Propane vs. electric
Whether it's baking your favorite homemade dishes or grilling a steak to perfection, few fuels can deliver the mouthwatering results of propane. 
Propane ranges and stoves are much better than electric cooktops in delivering consistent heat and temperature controls. Grills, stoves, and cooktops fueled by propane also allow users to make precise adjustments to flame levels - which is crucial when baking or preparing dishes that require a delicate touch. 
In fact, an overwhelming majority of professional chefs - 96 percent - rely on open flames from fuels like propane to run their restaurants. In addition to precise temperature control, propane cooktops and stoves provide more even heating, are instantly hot and immediately cool down once the flame is shut off - which protects food from under or over cooking. 
In addition to propane's superior results in the kitchen or on the grill, it's also more cost-effective than stoves and ranges powered by electricity. Propane is an energy-dense fuel that produces exceptional outputs. Each gallon of propane can produce the equivalent of 27 kilowatt hours of electricity. Current pricing models for propane show that each kilowatt equivalent produced by propane costs .08 per kilowatt, while electricity varies by region, ranging from around .10 per kilowatt hour in the Midwest to .22 in the New England area. Over the life of your appliance, a propane stove costs less than electric - both in daily operation and long-term maintenance expenses. 
 
What should I know before switching from electric to propane?
If you want to make the switch from electric to propane, there are a few things to keep in mind.
First, you'll need to purchase a propane-compatible stove and cooktop. The price ranges are comparable to electric units, and typically cost between $400 and $800, with high-end units costing upwards of $3,000. 
Secondly, you'll need to extend your propane supply to your new appliance. If your home already relies on propane for heat, or to power other appliances, this will simply require running a line to your stove. If you're not currently using propane in your home, a local dealer such as Ferrellgas can help you find the right storage and deliver options for your needs. When working with any flammable gas, such as propane, it's best to have any work done by a licensed professional. 
Additionally, using an open flame stove and cooktop will require ventilation that's typically not needed with electric stoves. A range hood that draws fumes, steam, and smoke out of the kitchen will provide enough ventilation to ensure there's no build-up of carbon monoxide. Otherwise, simply opening a nearby door or window will allow in enough fresh air to ensure our family's safety. If you're unsure whether you're providing enough ventilation to your kitchen, reach out to a professional installer for guidance.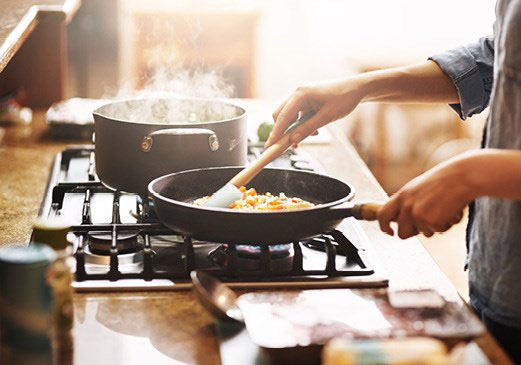 What are some added benefits of using propane in your home?
In addition to propane's effectiveness in the kitchen, it's also a great resource to power the rest of your home. 
Propane is an excellent source of heat for your home - producing air that is heated up to 140℉ to quickly and efficiently heat your home. Other heating sources, such as heat pumps, typically produce air that is below body temperature, requiring the unit to run longer than the average propane heater. Additionally, propane hot water heaters typically cost less than $10 per month to operate, costing only 42 percent of the operational costs of similar electric units. And propane powered clothes dryers can handle a load of wet clothes 25% faster than their electric counterparts - and saves more than 2,000 pounds of carbon dioxide emissions in a year. 
From heating your home, to heating your water, and preparing your family's meals, propane provides the best results - all for less cost than electricity and with fewer pollutants and emissions. Propane is among the cleanest burning fuels in use. Very little fuel is wasted or left unused in the combustion process, and propane emissions are minimal compared to other forms of energy. It's also one of the safest fuels in the country - thanks to development of safety mechanisms and protocols that exist throughout the propane supply chain. 
Get in touch with the pros at Ferrellgas for your propane needs
The steady, even, and controllable heat offered by propane stoves and ranges can help you spice up your kitchen, and remember how to love cooking again. Plus, you'll know that you're using a fuel that is safe, reliable, cost-effective, and less harmful for the environment. To learn more about how to make the switch, contact your local Ferrellgas retail store.