Grilling season is back, baby
It's certainly fun to grill year-round, but Memorial Day is the unofficial kickoff of grilling season. That means it's time to break out your favorite recipes and start mixing up homemade rubs, marinades, and sauces. As you plan your Memorial Day menu, we hope you'll get fired-up about this new baby back rib recipe.
Before you get started, though, you'll want to be sure you have enough propane in your tank. If you do need to refill your grill cylinder, you can do so at many local Ferrellgas offices or at thousands of Ferrellgas resellers. Call your local office today to see if this service is available in your area, or simply use our location finder and check to see if "Grill/RV Cylinder Service" is listed under Services.
Exchanging your empty propane tank for a new, leak-tested Blue Rhino tank is another quick and easy way to get the fuel you need. Simply find a location in your neighborhood and Drop, Swap, and Go! You'll be back home and grilling your baby back ribs in no time!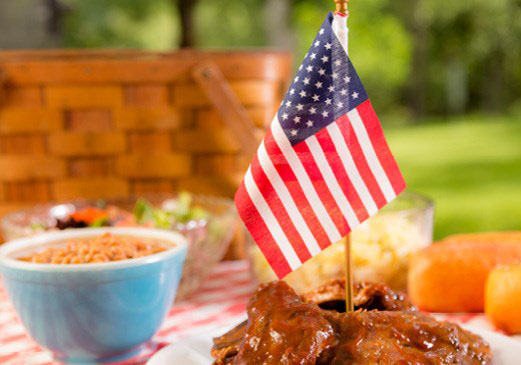 Honey baby back ribs
Ingredients
4 2-pound rack baby back pork ribs
¼ cup packed light brown sugar
2 tablespoons paprika
2 tablespoons steak seasoning (We recommend a Montreal blend)
1 tablespoon ground cumin
1 tablespoon dried oregano
Vegetable oil, for the grill
¼ cup honey
1 tablespoon apple cider vinegar
Kosher salt and freshly ground pepper
Directions
Turn the ribs bone-side up. Slip a paring knife between the thin membrane and the bone to loosen, then pull off the membrane. (Using a paper towel to grip the slippery membrane is helpful.) Mix the brown sugar, paprika, steak seasoning, cumin, and oregano in a small bowl; rub over ribs generously. Place on a baking sheet, cover with plastic wrap and refrigerate at least six hours or overnight.
Preheat your grill to medium high and prepare for indirect grilling: Turn off one or two of the center burners and reduce the remaining burners to medium low.
Oil the grill grates. Place the ribs bone-side down, overlapping slightly if needed, on the cooler part of the grill (indirect heat). Cover and cook, rotating the rib racks once, until the meat is tender and pulls away from the bones, about two hours to two hours and 15 minutes.
Mix the honey, vinegar and a pinch of salt and pepper in a small bowl. Transfer the ribs to direct heat. Brush with the honey mixture once more, until glazed, five to 10 minutes. Transfer to a cutting board and cut into ribs.
Recipe courtesy of Food Network Kitchen.