Top tips for cooking the perfect Thanksgiving turkey
With Thanksgiving quickly approaching, we can't help but think about the delicious foods that will soon cover every inch of our plates. But let's be honest, turkey is always top of mind this time of year. Historians have tracked human interest in hunting wild turkeys back to our nation's early colonists in the 17th century. It wasn't until 1863, when President Abraham Lincoln declared Thanksgiving a federal holiday, that turkeys became our country's festive entrée of choice. Bottom line? Thanksgiving and turkey go together like Ferrellgas and propane.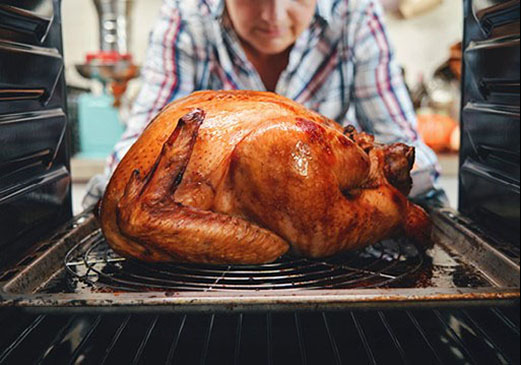 There are several ways to cook a turkey. Some Thanksgiving enthusiasts choose grilling, smoking, or deep frying while others gravitate towards the oven. With higher degrees of efficiency and temperature control, propane-powered ovens are a great option for cooking any meal. Make this year's Thanksgiving the best yet by following these simple tips:
Fresh over frozen
Meat cells can be damaged when frozen, negatively impacting the quality of the meat and causing those savory juices to escape during the cooking process. And because there's no need to thaw a fresh bird, you can spend less time in the kitchen and more time with your family.
To brine or not to brine
Brining is the process of soaking your meat in salty water, which allows meat cells to retain more moisture (and flavor) throughout the cooking process. If you buy a fresh high-quality turkey from the store, then you can skip brining. If using a wild turkey, we recommend brining the night before to ensure your bird stays moist and flavorful. 
Basting is wasting
The real key to the perfect Thanksgiving turkey is not to overcook it. You only need to check the turkey about halfway through cooking. Want to know if the skin is golden brown? Use your oven light. Worried about the outside of your turkey cooking faster than the inside? Cover the breast meat in a large piece of tinfoil. Remember: the more you open the oven, the more heat is released.
Use a meat thermometer
Trust us when we say the pop-up timer that comes with most turkeys isn't reliable. When cooking large cuts of meat, it's important to utilize a meat thermometer for accurate internal temperature readings. According to the U.S. Department of Agriculture, turkey should be cooked to a minimum internal temperature of 165 degrees. Once your bird reaches that temp, it's safe to pull from the oven.  
Carving with care
When your turkey is out of the oven, it's time to prepare your carving station. Set the turkey on a sturdy surface with the legs pointing away from you. Then sharpen your best chef's knife and get to work! Start by cutting straight down along the inside of either leg, then gently twist and pull the leg away from the rest of the body. You'll know you've separated successfully when you hear a pop. Repeat this process to separate the drumsticks from the thighs, and remember to cut against the grain when carving the breast meat!
The benefits of cooking with propane largely outweigh those of electric appliances. Propane is cost-efficient, environmentally friendly, and offers consistent heating through precise temperature control. Ready to cook with propane? Ferrellgas is here to make your propane service easy. Give us a call at 888-337-7355 or live chat with a Customer Service Professional from anywhere on our website.
From everyone in the Ferrellgas family, we hope you have a happy and safe Thanksgiving!