The best recipes and tips for this weekend's big game
Nothing beats the atmosphere of the big game on the first Sunday in February. While the proceedings of this year's big game may be a bit different, there are still a few things that never change. One of those is the delicious food we all consume while we sit back and watch the top two teams of the season duke it out for the coveted trophy. Much like a football team, when you're preparing for the game, it's important to have a solid game plan in place, and that starts with a few tasty treats. Check out our top game day tips and recipes for this year's big game.
Setting up for your Big Game Sunday
A good grill master always has a plan in mind for the grocery store. Watch parties, especially this year's, don't require the same elaborate spread of a fancy dinner party, so plan on making your trip to the supermarket a quick one. Cater to the needs of your family and buy foods that everyone can eat. Remember, the simpler the meal, the better.
Recipes to make on your grill or propane-powered range
Throw out the silverware and get ready for delicious, finger-licking foods for your next watch party cookout. Football may come first, but these recipes will steal the show and make your place the go-to spot for the rest of the season.
Would it be a true football weekend without chicken wings? Wings are universally loved for their versatility, so feel free to mix and match sauce combinations to get the ultimate watch party wing.
You've heard of pigs in a blanket, but have you ever tried this recipe for Bacon-Wrapped Little Smokies? With an unbeatable smoky, meaty flavor, this tasty treat is perfect for sharing and will have your taste buds screaming "touchdown!"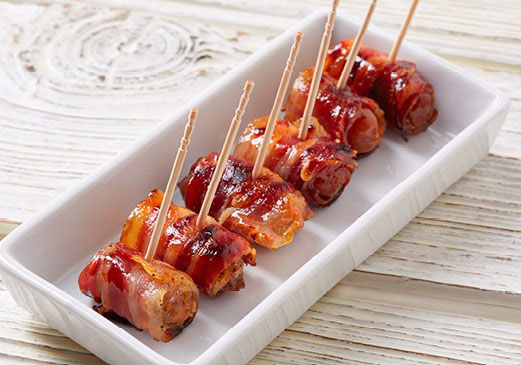 Make plenty of this savory Jalapeño Popper Skillet Dip because it's sure to be a fan favorite. Combining several types of cheese, and even some bacon, this shareable snack is the perfect game-time treat.
A classic appetizer like these Grilled Potato Skins deserve a spot on the All-Watch Party First Team. With a sprinkle of onions, crumbled bacon strips, and a generous amount of sour cream, this will be a contender for the best dish you'll serve all weekend.
Fall calls for plenty of pumpkin-flavored foods in your diet and these Spiced Pumpkin Latte Cake Bars will satisfy anyone's sweet tooth. Leave your guests with a memorable dessert to top off your team's big win!
Put your propane to work with Ferrellgas
No matter who wins this Sunday's contest on the football field, propane will always come out on top. With Ferrellgas, you get the many benefits of this versatile and reliable fuel, along with great customer service. And when you're ready to fire up the grill, you can even count on our friends at Blue Rhino to have your back. Find a local Ferrellgas office today and let us make your propane dreams a reality.