3 propane-powered appliances that will simplify your life
As we start a new year and a new decade, many of us have already written down a few resolutions aimed at improving our quality of life, and making things much simpler on us. At Ferrellgas, we specialize in fueling what matters to you, so we're here to help you meet your goals this year. While we can't be the ones to make you eat healthier, or push you to learn a new skill, we can certainly put life at your fingertips with a few propane-powered appliances. So here are three of the most important propane-powered appliances that will help simplify your life as we begin 2020.
Propane-powered stove tops, ranges, and ovens
Those who are avid fans of grilling already know the advantages of cooking with propane, but investing in a home propane range, stove, or oven can play a large role in cutting down the time it takes to make all the delicious meals you have in your cookbook. Many homes are turning to propane-fueled cooking solutions because of their biggest benefit – turning on quickly and immediately heating up to your desired temperature. Gone are the days of waiting around while the oven preheats, or continuously monitoring your food making sure your oven is evenly distributing heat. We also recommend propane-powered cooking appliances because of the opportunity to reduce electrical costs. Converting to propane from an all or mostly electric-powered kitchen simplifies your life in the long run, as propane-powered appliances generally have a longer lifespan than their electric counterparts. But don't just take our word for it. Hear why one family chose to quit playing the hot-and-cold game and switched to propane.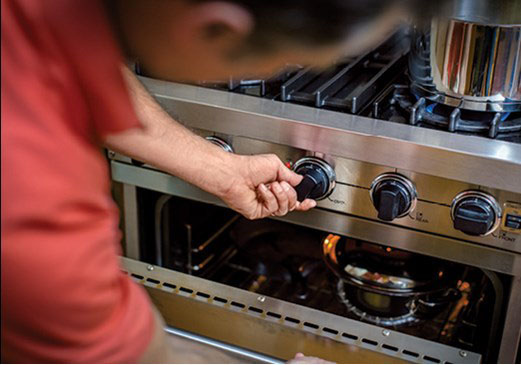 Propane clothes dryers
Let's face it. We've all let our laundry basket pile up with clothes a little too long on at least one occasion, and when that happens, you're often wishing you had some help to finish those loads a bit quicker. With propane clothes dryers, you can rest easy knowing that laundry day will soon be a breeze. The advantages of propane dryers are plenty, but the biggest key, as with most propane-powered appliances, is the amount of time propane clothes dryers can save you. Propane dryers are available in different capacities, with burners generally ranging from 18,000 Btu/hour up to 30,000 Btu/hour Electric dryers have heating output levels at the low end of this range, which translates to faster drying times for propane clothes dryers.
Propane clothes dryers also provide an energy-efficient alternative to electrical dryer models. Propane clothes dryers can save over 20 percent in energy costs when compared with electric dryers. The efficiency and cost benefits are created by the propane dryer's higher heating capacity, shorter cycle times, and features like pilotless ignition. These factors, combined with several others, are proving to simplify laundry day for many households, and making propane-powered clothes dryers a valuable laundry solution.
Propane water heaters
The importance of hot and warm water is never more evident than during the winter. We can often take hot water for granted, but are quick to realize how much it means to us when we're forced to take that cold shower or go without it when cooking. This year, simplify your life by turning to a propane water heater. On top of annual energy savings of roughly 13-20 percent, propane-powered water heaters provide you with the ultimate non-negotiable: comfort. A propane water heater easily provides abundant hot water for every person in your family, and takes up less space to do it. For example, a 40-gallon propane unit delivers the same amount of hot water as a 50-gallon electric unit. Simply put, propane water heaters simplify many aspects of your life at home.
Contact Ferrellgas for all your propane needs
In 2020, make it a resolution to simplify your life with the help of propane. Our local offices across the country are here to help you make the most of this New Year, so contact one of our propane experts today and find out how Ferrellgas can help put life at your fingertips. 
You'll also want to visit MyFerrellgas, our free and easy-to-use online account management portal, so you can safely and securely access your delivery history, schedule a future delivery, and opt-in to our paperless billing feature. 
With the Ferrellgas team, and MyFerrellgas on your side, you can spend less time worrying about your propane supplier this year, and give some thought to the things that really matter to you!