Forklift Propane Tanks: Sizes, Refilling, & More
Propane-powered forklifts have moved products around warehouses large and small for decades now. Managers of these facilities not only appreciate the power propane provides, but also how quick and easy it is to replace an empty forklift tank with a fresh one. Say goodbye to waiting for the electric units to charge! In today's "right now" economy, with more and more products that can be ordered online and delivered within hours, distribution centers are turning to propane forklifts, saving money while also meeting strict nationwide indoor air quality standards.
Warehouse and distribution facility managers have plenty to worry about. Many centers turn to Ferrellgas for their forklift cylinders and have one less thing to worry about. The service operates much like our industry-leading Blue Rhino tank exchange service. However, unlike Blue Rhino tank exchange, our customers' forklift tanks are stored where they're used: on-site at their locations. The tank cages at these customer locations hold 4-12 forklift tanks and are accessed by forklift operators when they need to quickly and easily replace an empty tank with a fresh one. Ferrellgas then makes regular deliveries to restock the cages and keeping local businesses humming.
Tank Sizes and Power
Approximately 90 percent of propane-fueled forklifts utilize an 8-gallon (or 33-pound) propane tank that lasts an average of eight hours. Forklifts that run on a 10-gallon (43-pound) propane tank are also available to power the larger forklift engines sometimes required to get bigger jobs done. Approximately five percent of Ferrellgas' forklift tank exchange customers operate lifts with these larger-sized tanks. Not unlike larger gasoline-fueled vehicles on the road today, these larger forklifts aren't as energy efficient as the smaller models, with 10-gallon propane forklift tanks running an average of only six hours.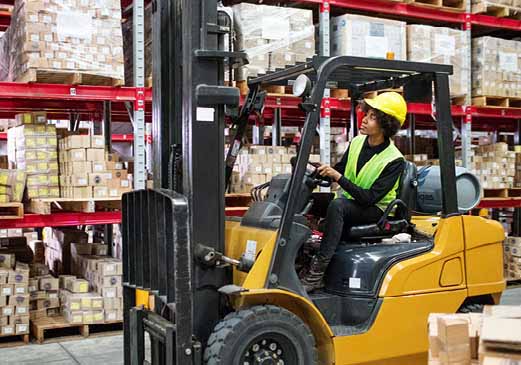 Tank Materials and Weight
Both steel and aluminum tanks are available to propane forklift operators. Each holds approximately eight gallons of propane, but the difference in materials can create quite a difference in weight. A steel forklift cylinder weighs approximately 35 pounds when empty and 69 pounds when full. An aluminum forklift tank, on the other hand, weighs only 23 pounds when empty and 56 pounds when full. Those additional pounds are clearly harder on both delivery personnel and forklift operators. That's why Ferrellgas only provides aluminum forklift cylinders to its customers.

Table via https://www.propane101.com/
Tank Tips and Training
The process of replacing an empty forklift propane tank with a full one is easy when you remember a few important things. For example, all propane forklift users should know that forklifts can't operate on barbecue-sized propane tanks. At Ferrellgas, we take safety seriously and put a heavy emphasis on propane safety, including providing comprehensive safety training to new customers and current customers when requested.
Interested in the reliable and hassle-free forklift tank exchange service enjoyed by businesses across the country? Sign up to become a customer now and be connected straight with a dedicated Account Manager.