Avoid payment processing fees when paying your bill online
Over the past several months, Ferrellgas has heard from customers who thought they were paying their propane bills through our website but were confused about being charged a processing fee. One customer was even charged a late fee on her next bill because Ferrellgas received payment after the due date, even though she submitted it well ahead of the deadline.
Customer warning
Be warned that if you do an online search for "Ferrellgas online payment," your results may include third-party payment processors that are not affiliated with Ferrellgas. In most instances, typically in the form of paid advertising, these payment processors will gladly process your payment for a fee. Additionally, payments made through these payment processors may be delayed anywhere from two to five days.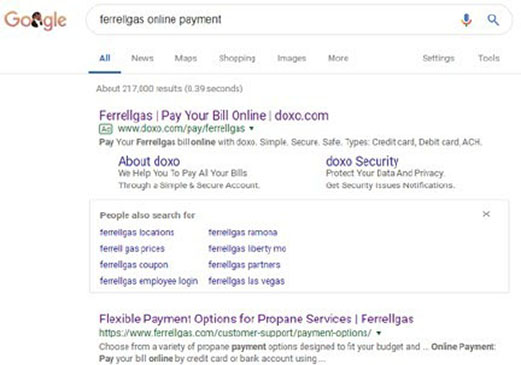 While these companies allow you to pay multiple bills on the same website, they may charge an additional fee for the convenience. If you deliberately choose to utilize a third-party payment processor, remember, you might be charged an additional fee with little control over when the payment is delivered to us.
However, Ferrellgas offers customers the flexibility of choosing the best payment plan to fit their needs, including online payment through our online account management tool, MyFerrellgas. Paying your bill through MyFerrellgas is not only free and convenient, it also ensures that your payment is processed within 24 hours.
How to enroll

To enroll, new users will need to register by visiting MyFerrellgas.com or clicking on the MyFerrellgas icon on the Ferrellgas website. Once you're there, you'll need to enter your account number, billing ZIP code, and email address. It's as simple as that to pay your bill anytime, anywhere. For more information about MyFerrellgas and the benefits of this one-stop-shop for managing your propane account, click here.

And if you have questions about online bill pay, don't hesitate to call your local office. We would be glad to help walk you through the process.