Building communities through barbecue
Few activities can boast the fun of a summer barbecue. All season long, people across the country fire up their grills and invite friends and family for feasts in parks and backyards. These gatherings often bring people together to celebrate, relax, and enjoy each other's company.
But what if barbecue brought people together when the chips were down or when the odds were stacked against them?
That was exactly the approach taken by Operation BBQ Relief (OBR), a non-profit organization created over seven years ago in response to a need for relief efforts in tornado-stricken Joplin, Missouri. In May of 2011, competition barbecue teams from eight different states arrived in waves to help feed displaced families and emergency personnel in the aftermath of one of the worst natural disasters to ever hit the area.
Joplin, a community of nearly 50,000 residents, felt the overwhelming support of Operation BBQ Relief almost instantly. More than 120,000 meals were served over an 11-day period. Volunteers from across the country delivered meals to shelters, hospitals, senior living communities, and the local Humane Society in an effort to combat hunger after a devastating tragedy.
Since 2011, Operation BBQ Relief has touched the lives of countless others, showing up to not only provide hot meals after disasters, but to comfort and show compassion during difficult times.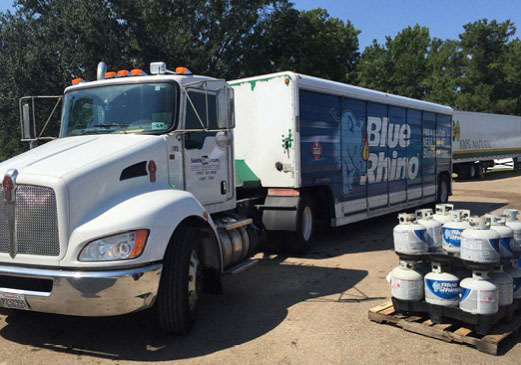 David Marks, Chief Marketing Officer at Operation BBQ Relief, recalls the exact moment he jumped in to help those affected by a major storm. 
"October 29, 2012. Hurricane Sandy came barreling up the East Coast. I saw all the devastation around me and on the news," Marks said. "I knew that I was the lucky one, and I needed to do something. I assembled some food supplies, packed my bags, hooked up [my truck], and was on the move." 
Though Operation BBQ Relief is quick to spring into action after a tropical storm, they credit their partners and sponsors for helping make their relief efforts run smoothly.
One of those sponsors, Blue Rhino, was the first to form a contractual partnership with Operation BBQ Relief. As the official propane sponsor of OBR, Blue Rhino has stood by thousands of Americans during some of their toughest times.
Chris Hartley, Vice President of Marketing for Blue Rhino, admits that propane might not seem like an obvious need during storm season, but it has played a large part in OBR's success.
"I got to know the founder of Operation BBQ Relief, Stan Hays, and both of us came to realize how much of a natural role propane plays in disaster relief," Hartley said. "Especially when it comes to grilling, propane is such a great source of cooking when the power is out."
This partnership between OBR and Blue Rhino, which dates back to 2012, finds its roots in safety and preparedness as much as it does in providing relief after a natural disaster. Both Blue Rhino and Operation BBQ Relief stress the importance of being ready in the event of a tropical storm.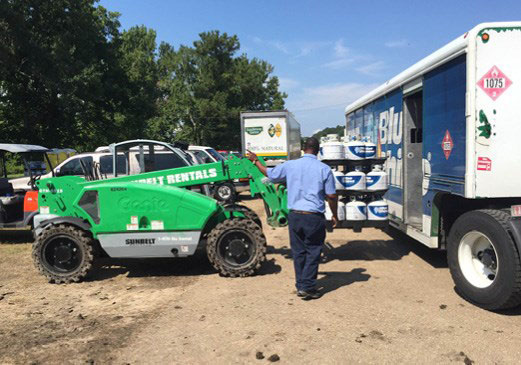 "We want our customers to realize how important propane is, but you have to be prepared and you also have to prepare safely. You want to secure your propane tank in a safe place before the hurricane comes rolling in, but you also have to be prepared to use it," Hartley said.
Forecasts are calling for another above-average hurricane season this year, but Operation BBQ Relief is poised to deliver aid when called upon. Fueled by propane and a passion for grilling delicious food, OBR has now served over one million meals since its inception and is only growing in its relief efforts.
To learn more about Operation BBQ Relief, you can visit their website at www.operationbbqrelief.org. And for additional information on how to stay safe during tropical storm season, visit our Safety Page.