Celebrating Propane and All It Has to Offer
Celebrating Propane as a Reliable Energy Source
Happy National Propane Day!  
The Propane Education & Research Council's (PERC) second annual National Propane Day is set for Saturday, October 7, 2023. The annual tradition began last year to celebrate all the propane industry has to offer and how it helps people across the country every single day.  
The date of October 7 was specially chosen as well. Propane's HAZMAT placard, which is placed on vehicles, tanks, and other places, displays the number 1075 – so the date 10/7 was chosen to celebrate!  
Ferrellgas is excited to recognize National Propane Day this year! Millions of people in the United States use propane to heat their homes, dry their crops, fuel fun at backyard barbecues, and more. Propane is a reliable, portable, environmentally-friendly fuel with a wide range of uses, making it the fuel of choice for many Americans. Our company is proud to be one of the leading propane companies in America bringing this important fuel to customers across the country.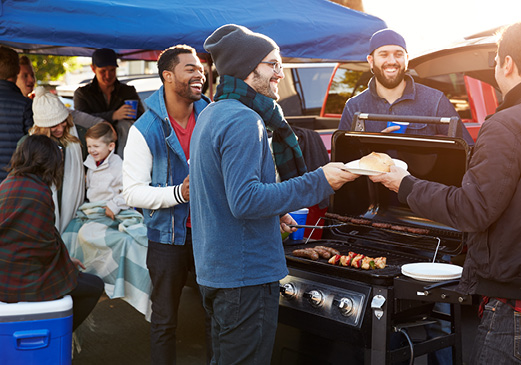 Since National Propane Day falls on a Saturday this year, the propane industry is adopting a tailgating theme. You've likely seen a propane tank or two hooked up to grills at a tailgate recently, so the theme is a natural fit.  
More About Propane Energy  
According to PERC, propane is the third most widely used source of energy for heating in the U.S. Propane supports 50 million homes and 1.1 million businesses. That's a lot of people and a lot of propane! Why is propane so popular? There are many reasons. It can be used in areas of the country that aren't serviced by other energy sources. Propane is portable and can go where you go, including your backyard, your camp in the woods, a construction site, farms, and more. It's versatile; uses for propane vary widely. 



While all of those are great reasons to choose propane as an energy source, many people choose to use it for another reason – clean, green energy. According to PERC, propane produces 52% fewer greenhouse gas emissions than the equivalent amount of grid-generated energy. It's a low-carbon fuel, which experts say is helping America get closer to producing zero carbon emissions. In fact, propane is an approved fuel under the Clean Air Act of 1990. It won't contaminate the air, water, or soil. Experts at PERC also say propane plays a key role in a diversified energy strategy, which could help the U.S. achieve its energy conservation goals.   
Where Ferrellgas Fits In  
As a leader in the propane industry, Ferrellgas' number one priority is our customers. We want to provide easy propane service. We love seeing positive results from our work – families safe and cozy all winter long, friends enjoying a good barbecue, farmers successfully drying their crops, construction workers staying warm at job sites, and more. We even fuel school bus fleets through our propane autogas program. The propane possibilities are practically endless!   
Propane, and all that it does, means so much to so many people. It truly fits into the heart of American life. That's why we're thrilled PERC is celebrating National Propane Day again this year.  
So let us help you cross one more thing off your "to do" list, no matter what your propane needs are. Give us a call at 888-337-7355 or contact us at Ferrellgas.com. We'd love to help you Fuel Life Simply.