Celebrating styles of barbecue this Memorial Day
May features two special holidays in the world of grilling; National Barbecue Month, the official month to celebrate barbecue lovers from across the country, and the delicious foods that come from their efforts, along with Memorial Day, the unofficial start to summer and grilling season. As many people know, no two regions or cities make their barbecue the same way, and the style of barbecue you love can depend on several factors. Whether it's the type of meat, the barbecue sauce that goes with it, or all the sides that round out the meal, we've come to embrace it all. On this Memorial Day weekend, check out the most notable barbecue staples across the country, and try your hand at recreating some of the country's best!
North Carolina Barbecue
North Carolina provides two unique methods of barbecue based on the side of the state that you live. Divided between east and west, you'll find something for everyone in North Carolina. The eastern part of the state is defined, and known across the country, by its spice and vinegar-based barbecue sauce. No tomatoes are used to create this sauce, as they opt for spices like cayenne, black pepper, crushed red pepper, and hot sauce to round out the taste.
This is contrasted with the western part of the state and their "Lexington Style" sauce. This kind of barbecue, also referred to as Piedmont Style, introduces ketchup into the mix as the base for a tangier sauce, while still keeping a distinct vinegar flavor. While two North Carolinians might differ on which sauce they enjoy more, there's a good chance they'll agree on one thing; pork reigns supreme in North Carolina. The east often has whole hog barbecues as the main event, while the west specializes in pork shoulder. Both are distinctly North Carolinian in flavor, and worth trying on your next visit. But if you can't make it out to North Carolina, try honoring their barbecue style in your backyard with this incredible Pulled Pork Sandwich recipe!
South Carolina Barbecue
We couldn't mention North Carolina without acknowledging their neighbors to the south. South Carolina barbecue is no slouch, and while there are plenty of similarities between the two states, the locals will tell you that the unique sauce of South Carolina can't be matched. "Carolina Gold" as it's known to most, is a mustard-based barbecue sauce that comes from the first German immigrants to settle in the region. From Charleston to Columbia, you won't have any problem finding a good barbecue restaurant with plenty of Carolina Gold sauce, as that region is often referred to as the "mustard belt." If you're dying to taste this liquid gold sauce, make your way over to Sweatman's BBQ in Holly Hill, South Carolina, or try your hand at making your own with this easy recipe!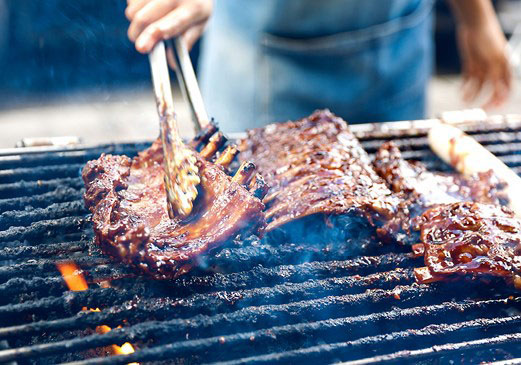 Memphis Barbecue
Similar to the Carolinas, Memphis style barbecue is all about pork. While several Memphis barbecue restaurants serve beef and chicken options, you can't go wrong with pork ribs, shoulder, or a classic pulled pork from Memphis. But where this town gets its praise is from its dry rub. Memphis dry rub may vary slightly based on the chef, but most come down to a few key ingredients, like garlic and paprika. You'll often have the choice between dry and wet barbecue when placing an order for a rack of ribs for example, making Memphis barbecue a great option for those who like to mix it up. The other key differentiator in Memphis is the cooking process. Barbecue is usually prepared by slow cooking in a pit, giving it a rich, smoky flavor. If you're looking to recreate a great Memphis meal, try these Memphis Dry Ribs at your next cookout!
Kansas City Barbecue
Known for its wide variety of meats, and abundance of sides, Kansas City barbecue is in a league of its own. Situated in the heart of the country, Kansas City and its barbecue serve as a melting pot between barbecue cultures across the United States. With influences from around America, it's no wonder why pork, chicken, beef, turkey, and even beans find their way into pits across the city. However, if you're looking for Kansas City's signature barbecue dish, it has to be burnt ends, which are double-smoked caramelized hunks of brisket. And as is the case with several of these barbecue capitals, the sauce is what people remember most in Kansas City. A thick, molasses and tomato-based sauce is generously applied to just about everything. This sauce finds its roots from Arthur Bryant, an early pioneer in Kansas City barbecue. If you can get your hands on it, or several other local spots in Kansas City, you won't be disappointed.
Texas Barbecue
As the saying goes, everything is bigger in Texas, and that holds true when talking about the state's barbecue. Because the state is so large, there are often four main categories that Texas barbecue is known by, which are split up by region.
East Texas style: In the eastern part of the state, the beef is slowly cooked to the point that it is falling off the bone. It is typically cooked over hickory wood and marinated in a sweet, tomato-based sauce.
Central Texas style: The meat is rubbed with spices and cooked over indirect heat from pecan or oak wood.
West Texas style: The meat is cooked over direct heat from mesquite wood.
South Texas style: Features thick, molasses-like sauces that keep the meat very moist.
Depending on where you are in the great state of Texas, you're bound to get something unique and flavorful to satisfy your craving for barbecue. When it comes to the type of meat that these sauces are applied to, brisket is king. The Lone Star State serves plenty of beef, so recipes like this Barbecue Beef Brisket aren't bad ones to have in your back pocket.
Take a tour through the several barbecue styles of America this Memorial Day weekend and let us know what you're cooking up on your grill! Be sure to have plenty of propane on hand by visiting Blue Rhino's Propane Finder tool.