Cooking for life: A global effort for cleaner fuel usage
We forget sometimes how fortunate we are to live in a country where propane is an easy and logical choice for homeowners who want to enjoy the many benefits of gas-powered appliances. That's not the case in many low-income countries, where the use of traditional cooking fuels such as charcoal and wood contributes heavily to indoor air pollution. Sadly, every year as many as 4.3 million lives are claimed due to pollution-caused illnesses.
In conjunction with governments and public health officials around the globe, the World LP Gas Association (WLPGA), intends to do something about it. They've launched Cooking For Life, a global campaign aimed at transitioning 1 billion people from dirty and dangerous fuels to clean-burning propane by the year 2030.
In launching the program, the WLPGA has established some lofty and noble goals. These include:
Preventing 500,000 premature deaths per year, primarily women and children from exposure to indoor air pollution
Saving 6.5 million acres of forest, or 51 percent of annual global net deforestation, with every 268 million households converted to propane
Demonstrate the benefits of propane as a cooking fuel, stressing convenience and health benefits
As part of the initiative, the WLPGA launched a Community Kitchen in Ho Pong, Myanmar in November 2018. Serving as a place for people to gather and cook meals for their families, this project helps to improve the health and quality of life for women, who represent the majority of those cooking with traditional solid fuels.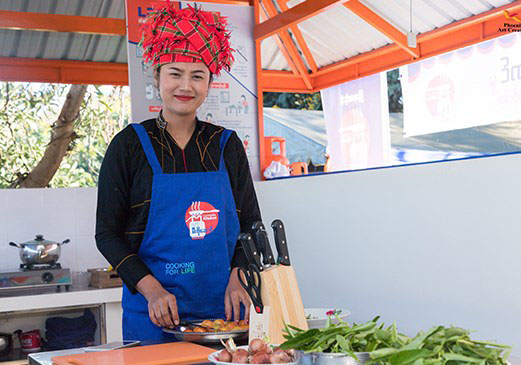 The association says India and Indonesia are also shining examples of successful countrywide conversions and transitions to convenient, portable propane, and that a number of best practices that can be gleaned and used.
The next time you lean over the propane stovetop and breathe in the aromas spilling from one of Mom's best recipes, keep in mind that such simple luxuries don't exist everywhere. But, with the coordinated efforts of propane industry representatives worldwide, including the efforts of Ferrellgas and Blue Rhino, they will someday soon. To do your part in contributing to this movement, be sure to stop by your local office to purchase the fuel you need.
Photos and information courtesy of the World LP Gas Association.