Cooking with propane: Why you should make the switch away from electric
For those on the market for a new home, or who are looking to upgrade their current home, tend to set priorities on rooms they utilize most. Typically, the kitchen is near the top of the list, if not the top priority.
It certainly makes sense. To most, we're utilizing the kitchen at least 2-3 times per day for meals, not to mention the amount of prep work and cleanup that transpires around mealtimes. Family memories are made in the kitchen. So why not make those memorable ones?
There's one thing that can get lost in the shuffle — understanding the differences between cooking with propane to electricity. For starters, when choosing to cook with propane, there are countless eye-catching designs that offer the look of a professional chef's kitchen.
What are the main benefits of cooking with propane gas?
Cooking with propane has plenty of benefits, including lower energy bills and specific heat control on the stovetop, among others.
You're more interested in the cost-saving opportunities, so let's start there. How much can you save? It, of course, depends on usage, but a general annual estimate for propane use in the kitchen is 40-60 gallons per year, leading to an approximate savings of $80-$120 per year. Who doesn't love a little bit of extra cash?
Controlled heat is preferred among professional chefs due to the ability to, you guessed it, "control" food temperature, a big draw, too, for the average cook who wants to create delicious food in the comfort of their own kitchen.
Another major draw is the immediacy of instant-on and instant-off burners, which allows for cooking to begin in an instant and end with a quick cool down. Propane's electric counterparts don't have this luxury.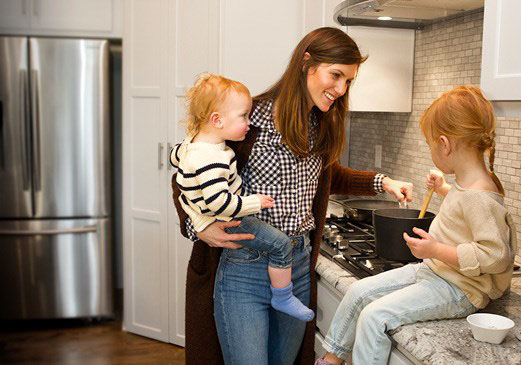 Propane appliances reduce your carbon footprint
American homeowners are paying more attention than ever to their carbon footprint, from the cars they drive, right down to their home appliances. Propane appliances help those who are environmentally-cautious to emit less harmful chemicals in the air. As a study from the Propane Education & Research Council shows, propane ranges and stovetops emit 83% less sulfuric oxide than their electric counterparts. Propane ranges also emit approximately 30% fewer carbon dioxide emissions than electric, which is produced from coal or oil-fired generation plants. Did your electricity go out? Luckily, in many cases, a gas stove will continue to operate during a power outage.
Trying to take advantage of space in your kitchen? Want to be able to quickly remove food out of your oven while keeping up with what's on the stove? Propane-powered stovetops can be combined with an oven underneath to provide a perfect way to be right on top of all your food at once. This can open the layout of your favorite room in the house and allow for more creativity elsewhere.
When should I upgrade to a propane range?
Quite simply, the answer is anytime!
Whether you're looking to relocate or finally hoping to update your home, it's always a good time to cash in on your dream kitchen. Contact your local Ferrellgas office if you'd like to learn more about the many reasons to switch to propane over electric.