Electric boilers vs. propane boilers: The case for propane
Water and steam boilers have long been the most consistent and efficient indoor heating options for homes, offices, and any large indoor space. They are quiet, provide even heat throughout any space, and suffer fewer mechanical failures.  
While boilers operate on a basic principle of heating water and moving it through a series of pipes and radiators, there are a variety of fuels that can be used to power your boiler. When comparing electric boilers vs. propane boilers, it quickly becomes clear that an LPG boiler is the most cost-effective, durable, and reliable option.
Electric vs. propane boilers? Choose propane
For nearly every use, propane is the cleaner, energy efficient, and cost-effective option. The same holds true with boiler heating systems for both homes and businesses. According to the U.S. Department of Energy, heating a home with propane is a cheaper option than an electric system.
For your home
Propane generates heat quickly and consistently, allowing for faster transfer of heat through the exchanger to the boiler's water. Additionally, it isn't victim to power outages during winter storms – when you need heat the most. Propane can be stored in a tank on your property, and the system doesn't rely on constant connections to a remote power feed.
Propane boilers can be located anywhere in a home, provided it has access to an external storage tank. Most common locations are discreet, tucked away corners of a home, such as a basement, closet, or hidden cupboard.
For your business
Propane is a popular choice for businesses and commercial applications. Models can meet the needs of any space and have better heat output compared to other fuel sources, such as heating oil and electricity. Restaurants, schools, retail outlets, hospitals, hotels, and multi-family units all commonly rely on propane boiler systems to meet their heating needs.
Propane boilers for commercial applications are highly efficient and provide additional environmental benefits, since propane is a clean burning fuel that produces fewer CO2 emissions. Due to its clean properties, there might be credits and incentives that apply in your location. Be sure to check the Database of State Incentives for Renewables and Efficiency.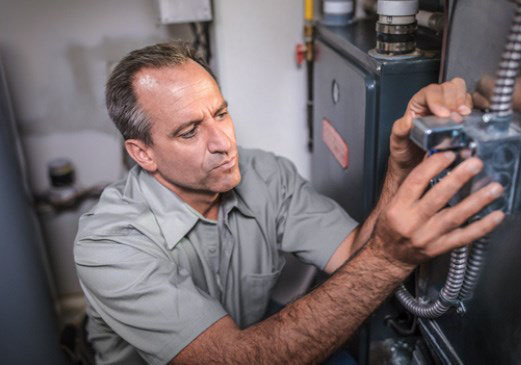 The initial cost to install a propane boiler system can range from $3,700 to $10,000 depending on the application in your space. The national average is $5,592. But using a propane boiler system can reduce your annual heating costs between 20 and 40 percent. Lower operating costs, coupled with propane's longer life and lower maintenance needs, can quickly offset the initial purchase price.
The benefits of boiler systems
Boiler systems capture the heat produced from burning fuel. Through the aid of a heat exchanger, the system's water is heated. This hot water or steam is then dispersed to radiators, radiant floor systems, or to a coil that can heat the air. 
These systems are incredibly energy efficient, and generally require less fuel to heat the same amount of space, compared to forced air and other heating systems. They also have better air quality, since there's no allergens being blown throughout the space. Boiler systems are quiet, don't require filter replacements, and require less maintenance throughout their life.
The heat from boilers isn't as "dry" as other systems, and since the water is constantly circulating throughout the indoor space, boilers provide consistent, even heat.  
Are propane boilers safe?
Thanks to strong codes and regulations supported by the propane industry and the National Fire Protection Association, propane is an incredibly safe heating fuel. It has a track record of safe use, and propane appliances – such as boiler systems – come equipped with a number of safety features to protect consumers.
Propane itself won't ignite when mixed with air unless it comes in contact with an ignition source exceeding 940°F.
Questions? Contact Ferrellgas
The trained technicians and professionals at your local Ferrellgas location are always ready to answer any of your questions, and help you learn how propane can help keep you safe and warm – for less money than other heating options.