Electric vs. propane forklifts: Which is the better option?
Heavy industrial users overwhelmingly rely on propane to power the forklifts they need to get the work done day after day and year after year. In fact, a Propane Education and Research Council survey found that more than 70% of forklift fleet owners choose propane powered forklifts.
It's no surprise why. Propane forklifts possess the power needed for any lifting job. They don't lose power throughout the day, like their electric powered counterparts. They are clean burning and safe for indoor use, and each 33-pound tank can power most forklifts for the entire workday. Plus, it only takes a few minutes to change out a tank – so you can keep your operation moving without losing valuable production time.  
Calculating the Difference
Most propane-powered forklifts can get between 6-8 hours of use from a 33-pound tank, where electric forklifts draw down 3-4 kilowatts per hour. This constant drawdown results in increasing weakness in an electric forklift's performance, and up to 8 hours of downtime to fully recharge it.
To calculate the difference, use this online forklift cost calculator, courtesy of propane.com.
Advantages of Propane Forklifts over Electric 
Propane forklifts have numerous advantages over their electric counterparts.
Reliable Power

They are long lasting, provide the power you need for your operations, and are relatively trouble free. 

Cost-efficient

They're also less expensive to operate. A recent study determined that each hour of use cost $1.41 with propane, compared to $1.48 per hour with electricity. 

No batteries or recharging

With electric forklifts, there's additional expense in recharging stations and replacing faltering and failing batteries. It can take up to 8 hours to recharge. 

Changing tanks takes minutes

Propane, on the other hand, is delivered by a supplier like Ferrellgas. Propane forklifts operate at full power and it only takes a quick tank change to keep them up and running. 

Operational any weather 

Additionally, propane-powered forklifts can work indoors or outdoors, in any weather condition. They're a great choice for cold weather work, and are completely safe to operate in wet and rainy conditions.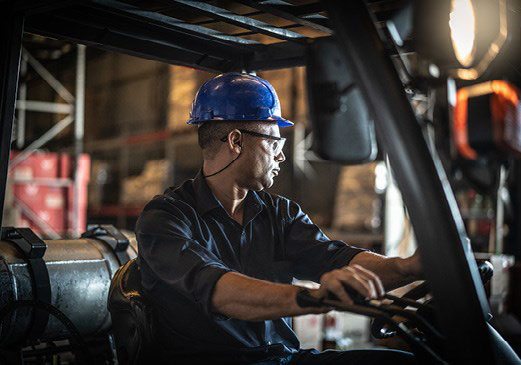 Advantages of Propane Forklifts over Gasoline 
Though LPG-powered forklifts work much like a gasoline engine, they don't come with many of the drawbacks.
Safe to use indoors

Since propane is a clean-burning and non-toxic fuel, it is safe for indoor use. 

Higher efficiency 

In fact, propane carries a 90 percent efficiency rating – higher than natural gas, diesel, or gasoline. 

Lower emissions

Propane's lower emissions won't pollute your indoor workspace, or leave behind noxious smells or fumes.  

Earn tax credits 

Additionally, your company may qualify for tax credits by switching to an environmentally friendly fuel for your operations. 

Longer lasting and less maintenance

Propane-powered forklift engines can also last more than twice as long as gasoline engines and require less maintenance and downtime throughout their service life. 
Safety and reliability
Propane has a remarkably safe record. All propane powered forklifts have automatic shut-off features to stop the flow of propane in the event of an accident. The propane industry follows strict safety guidelines, and each forklift is required to meet all national safety regulations and specifications.  
Forklift exchange & bulk tank programs to keep you running 
Ferrellgas provides a cylinder exchange program and a bulk tank program that makes it easy to keep your fleet running without the need for a refilling station.
Our trained staff will inspect each cylinder for wear and tear and will ensure that you have all the propane you need, whenever you need it. This also allows you to store the cylinders on-site and make adjustments to meet your company's demands. A Ferrellgas representative can even provide safety training for your employees, as well as safety materials for your facility.
These workhorses are reliable, safe to use, increase productivity, and are easy to manage on your worksite. To learn more about how propane can power your fleet, contact a Ferrellgas representative.