Propane vs. electric heaters: Which are best for hunting season?
Each year approximately 15 million people participate in hunting in the United States. It's a popular outdoor activity that has spanned and been passed down through generations, allowing participants to fully experience nature while taking responsibility for food they'll be putting on the dinner table.

Hunters are used to working in cold temperatures. To most, being outdoors with a chill in the air is a surefire sign the hunt is on. Those spending a night or more in the woods rely primarily on tents and cabins. During the coldest of winters, some type of fuel source is needed not only for space heat, but also to provide hot showers and meals to tired and hungry hunters. Having a smaller source of heat on a tree stand has some obvious benefits as well.

In lieu of a noisy generator or miles-long extension cord, propane heaters and the portability of the fuel source that powers them can provide a number of advantages to novice and seasoned hunters alike when compared to electric models. That's why on many a hunting checklist you'll find propane near the top with the shotgun, shells, and thermal socks. Whether planning a big-game expedition or a small-game outing, propane can help making any hunting trip more successful.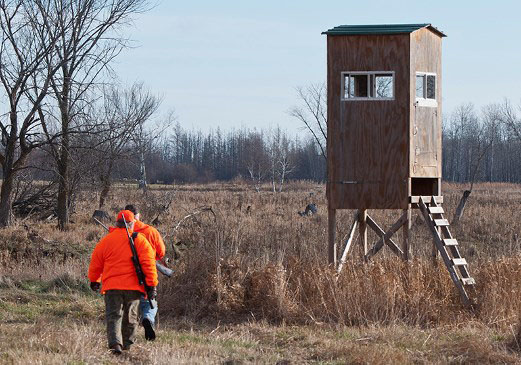 So what are the advantages of propane heaters compared to electric heaters, you ask? Here are a few important things to keep in mind:

Scent and sound matter - Electric generators can be noisy, and unnatural sounds will spook any deer within the vicinity, especially when they are on high alert during the early weeks of the hunting season. Propane heaters can operate silently, and any scent of propane will neither bother nor deter deer.

Slow heat vs. immediate heat - Unlike their propane counterparts, electric heaters can be slow at heating up the desired space, an inconvenience busy hunters have little time for. Propane heaters are easy to turn on and offer a much-desired more immediate heat.

Let's be flexible - Propane heaters are portable and maneuverable, giving hunters the flexibility they need to set up their home base precisely where they want to put it. Electric heaters can only be placed where there's an electrical outlet. Unless you're lucky enough to get to hunt in your own backyard, propane's flexibility makes it a clear winner here.

Safety first - Portable propane heater use is more popular than ever at restaurants, hotels, and our nation's most popular hunting zones. Propane heaters provide an enjoyable outdoor experience, especially when consumers keep these important safety tips in mind.

Another great propane benefit is that it's an abundant, American-made fuel that's always easy to find. There are hundreds of Ferrellgas locations across the country that refill propane tanks of various sizes, and our Blue Rhino brand boasts more than 60,000 convenient exchange locations throughout the United States.

Good luck and happy hunting to the millions who will do so again this year. And don't forget the propane!