Ferrellgas Celebrates "Tanksgiving"
How Ferrellgas Employee-Owners Celebrate Thanksgiving 
Ferrellgas is getting ready to celebrate Thanksgiving – or "Tanksgiving" as we like to call it! Every November, we pause to reflect on the many blessings in our lives, especially our customers. We are so grateful that you've chosen us as your trusted propane provider, and that you've allowed us to Fuel Life Simply for you and your loved ones throughout the year.
As a special treat, we've decided to share some of our employee-owners' most treasured Thanksgiving traditions with you. Some are traditional, some are innovative, and some are just plain fun. Read on to see how our employee-owners spend the holiday!

Lauran S., Blue Rhino Sales Coordinator
Lauran always looks forward to getting up early on Thanksgiving Day and watching the Macy's Thanksgiving Day Parade with her daughter. She says she has been watching the parade as long as she can remember but enjoying the parade with her daughter for the past 13 years has been extra special.  Lauran also loves making some of her favorite Thanksgiving dishes on the big day: sweet potato souffle, pumpkin pie, and turkey stuffing. Lauran started hosting her own Thanksgiving dinner in 2013, and she has been making her signature dishes ever since!
Crystal R., Accounts Receivable Manager
Crystal's Thanksgiving tradition is to eat non-traditional dishes – everything except turkey! She says she and her husband love to enjoy steaks, lobster, Cornish hens, crab legs, and more. The tradition started shortly after the couple got married 24 years ago because they couldn't decide what to serve for Thanksgiving! So, they decided to try other dishes instead, and they've been doing it ever since.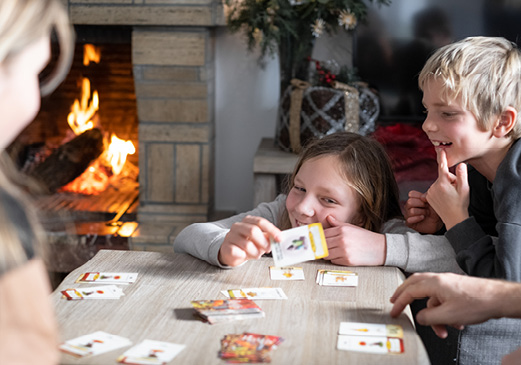 Mandy E., General Manager
Mandy's family holds a holiday potluck meal for Thanksgiving. They love having a special toast and playing games together. For Mandy, Thanksgiving is all about spending quality time with her family, which she says, doesn't happen nearly enough. She and her loved ones try to maximize the time they do have because they truly appreciate one another.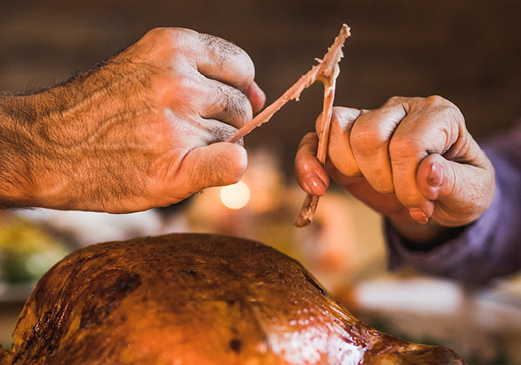 Scott B., Director of Corporate Communications
Scott describes his family as "competitive" so it's fitting that he and his sisters hold a wish bone competition every year. It has been going on for more than five decades, and there's no sign of it stopping anytime soon. It's a tradition that he and his family look forward to every year.
Paul R., Graphic Designer
Graphic Designer Paul R. really gets into the holiday spirit on Thanksgiving! He loves to view the lights on Chicago's Magnificent Mile and visit the Macy's window displays with his wife and friends. Fun fact - Paul and his wife don't usually make a traditional Thanksgiving meal because his birthday falls on the holiday every few years! They celebrate with birthday cake instead.

No matter how you celebrate Thanksgiving this year, we hope you get a chance to spend time with the people you love. Thanksgiving is about making warm, happy memories that you'll cherish for years to come. Well, that and pumpkin pie. Happy "Tanksgiving," everyone!