Ferrellgas named one of America's Most Trustworthy Companies
Ferrellgas has been named one of Newsweek's Most Trustworthy Companies in America! Newsweek and Statista worked together to evaluate thousands of companies based in the U.S. They looked at independent survey results of about 25,000 people who were asked how much they agreed with statements like, "I trust in this company to treat me fairly as a customer," and, "I believe this company would be a good long-term investment." Newsweek and Statista whittled the list down to 700 companies in 23 industries. Ferrellgas is proud to be the only national propane company on the list.
Earning this honor isn't something our company takes lightly. Our passionate professionals know our customers have a choice when it comes to where they get their propane. We're proud to have earned the trust of millions of people across the country, and we are honored to be able to give our customers one less thing to worry about by Fueling Life Simply.
Why You Can Trust Ferrellgas
Ferrellgas' dedication to exceptional customer service, safety, professionalism, and easy propane service can be traced back to its roots. When our current President and Chairman of the Board, James E. Ferrell, took over his family's small propane business years ago, he promised to make it better than ever. Within a few years, the company expanded, delivering propane to customers in Kansas and Missouri. Through almost a century of innovation, our footprint has expanded to one of the nation's top propane providers. Ferrellgas delivers to all 50 states and the District of Columbia. And our Blue Rhino propane tank exchange brand is sold at 60,000 locations nationwide. As a technology-enabled propane logistics company, Ferrellgas continues to expand and invest in the most up-to-date tools to make things easier for our customers and our employee-owners. Why? Because we truly and genuinely care. Mr. Ferrell has instilled strong values and work ethic in our employees, allowing them to use their expertise to support our customers in every way possible.
Our Commitment to Safety
At Ferrellgas, we have the highest safety standards in the industry because the safety of our customers and our employees is the most important thing. Our Drivers, Service Technicians, and Production workers go through rigorous safety training when they first join our company. They also attend ongoing safety classes and get important updates throughout their career with us. Our goal is to make sure each task is completed with the attention to detail you and your family deserve.
When you sign on to do business with Ferrellgas, one of the first things you'll receive is a safety information kit. It explains how you can continue to use your propane system safely so that you and your family are comfortable for years to come. We also have an after-hours team that is trained to handle emergency calls 365/24/7. We are here for you whenever you need us! We want our customers to feel confident they made the right choice when they chose Ferrellgas as their trusted propane provider.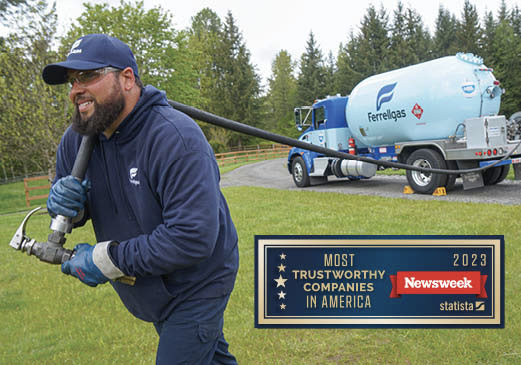 Our Company is Important to Our Employees
Did you know that Ferrellgas' workers own part of the company? In 1998, Mr. Ferrell sold his interest in the company to its employees in a leveraged Employee Stock Ownership Program, or ESOP. Once the ESOP was established, Ferrellgas wasn't just a place to work, it was a company that each employee owned a part of. That means every employee-owner has a vested interest in our customers' satisfaction, as if it were their own business, because it is. They go the extra mile to help our customers because their happiness and choice to do business with us is a measure of our success. Everything we do is customer focused. It is the driving force in our day-to-day business. We never stop looking for new ways to make our customers' lives easier.
Thank You for This Honor!
To all our loyal customers, thank you for believing in us and our company. We could not be where we are today without your continued support. Thanks to you, Ferrellgas has grown into a leader in the propane industry. As we shape our future, our core values of civility, honesty, and giving back to the community will remain. Because in our hearts, our company will always be that small family business that started in Atchison, Kansas, and our customers will always be our priority.