Ferrellgas providing propane support to COVID-19 testing efforts
Being a pillar of our local communities means stepping up to the plate during the toughest moments.
At Ferrellgas, we've always believed in being more than a propane supplier. Just over 80 years ago, we got our start as a small-town company, and along the way, we've formed countless bonds with community members across our great nation.
When the devastating effects of the coronavirus began to impact those same communities we've served for decades, we knew it was our responsibility to help those in need. As we've all been tuned into the news, we've learned of shortages in hospital staff, lack of equipment, and a generally overwhelmed system in some of America's biggest cities. While this news can be disheartening, it hasn't stopped our company from partnering with local hospitals and healthcare facilities to flatten the curve.
Rather than let these tough times bring us down, we saw this as the perfect opportunity to make the most of our essential service as one of the nation's leading propane suppliers.
How propane is playing a part in coronavirus testing efforts
Beginning the week of March 23, Ferrellgas has been on the front lines of the COVID-19 testing and recovery efforts in many parts of the country. You might be wondering how propane can play a part in helping curb the spread of a global pandemic, and the answer is quite simple.
Due to the widespread nature of this outbreak, many hospitals and healthcare facilities require supplemental help with testing, often in the form of large, outdoor tents where individuals can walk by and be tested should they show any symptoms.
Because many parts of the country are still experiencing colder temperatures, Ferrellgas has been able to set up these outdoor testing and relief areas with temporary heating as they diagnose and nurse members of our communities back to good health. These pop-up evaluation centers are slowly becoming the norm, and our country's medical professionals will continue to rely on us for support.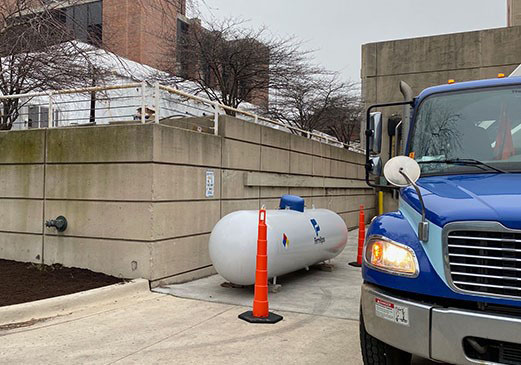 We've always maintained the belief that our company is only as strong as those we serve, and in a tough time for our country, Ferrellgas is committed to doing whatever it takes to bring us all back to our best selves.
Thank you for putting your faith in us, and we promise to continue fueling what matters to you, no matter the circumstance.
To find the closest Ferrellgas location to you, click here.