Forty years later, Schwan's home service fleet continues to benefit from propane autogas
Delivery services across the country rely on a wide variety of vehicles to power their daily routes. Often referred to as fleets, these large groups of vehicles require a source of fuel capable of covering long distances to make deliveries as efficient as possible.
Today's fleet managers, those responsible for selecting and maintaining vehicles to keep deliveries on schedule and within budget, point to fuel savings, longer engine life, and reducing harmful vehicle emissions as some of the primary reasons for making the switch from traditional gasoline and diesel to propane autogas.
Schwan's Home Service, the nation's leading direct-to-home food delivery provider, had a much different reason for turning to the world's most widely used alternative fuel more than 40 years ago.
During the 1970s, an OPEC oil embargo led to both sharp increases in the price of gasoline as well as severely limited supplies. By the end of the embargo in March 1974, the price of oil had quadrupled globally. Recognizing the significant impact this embargo would have on his delivery business, company founder Marvin Schwan made the historic decision to transition a percentage of his fleet to propane autogas.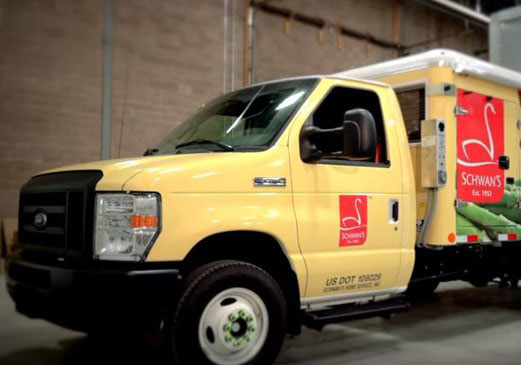 Fast forward to today, approximately 64 percent of Schwan's 4,500-vehicle fleet is powered by propane autogas, and company officials say they expect that number to increase to 70 percent by the end of the year. They inched closer to that larger percentage in May of this year when they took delivery of 200 Ford E-450 autogas-powered trucks upfitted by Roush CleanTech. Schwan's plans on leasing an additional 400 propane trucks by year's end.
"Propane-powered vehicles have played a key role in Schwan's product delivery for more than 40 years, Danielle Stariha, senior manager of fleet and procurement for Schwan's Home Service said in a recent interview with Fleet Owner magazine. "Total costs of ownership for propane autogas is much lower than traditional fuels and other alternative technologies, which is why we are continually implementing the newest propane technology."
To learn more about the commitment Schwan's has made to sustainability and its autogas fleet, visit their social responsibility page here.