Fuel your next camping trip with propane
As we draw closer to Labor Day, and the unofficial end of summer, propane users are gearing up for their final adventures with friends and family. Whether it's throwing a back-to-school barbecue, or hitting the pool, there's still time to make the most of the dog days of summer.
Camping is a great way to round everyone up and enjoy a weekend together in the great outdoors. And with propane to fuel your trip, you'll wrap up the summer in style.
Here are a few ways you can use propane to make your next camping trip a success.
Propane for your motor home
The ultimate camping trip wouldn't be complete without an RV. Motor homes are the perfect way to transport a group of people across long distances and can easily store large camping items, such as tents. The propane system in an RV provides heat and hot water, as well as power for the stove and refrigerator. So even if you're not an expert camper, propane-powered motor homes have you covered.
Before getting in the RV, it's important to check your propane system and cylinders for signs of corrosion, rust, and general wear and tear. Contact your local Ferrellgas office if you suspect a leak, or notice any damage to your propane tank.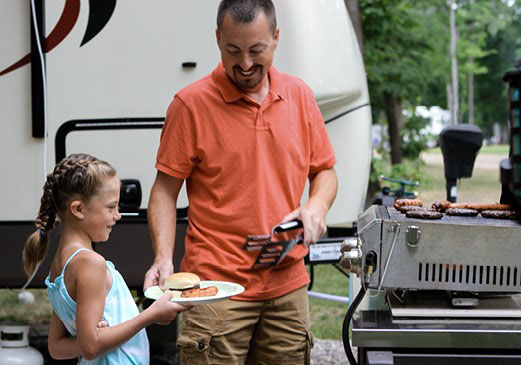 Propane-powered camping stoves
S'mores are the staple of camping trips across the country, and Blue Rhino has some unique recipes that let you put your own spin on the classic snack. But if you have your heart set on making some delicious meals outdoors, you might consider a propane-powered camp stove.  
As experienced campers know, there are several different types of camping stoves based on your needs. The best stove for brewing a cup of coffee won't be the same one you bring on a road trip to feed a family of four. However, propane-powered camp stoves offer an easy to use, clean burning source of fuel, making it a necessity for your next trip. In comparison to traditional wood fires, camp stoves heat up quicker and provide consistent, even heat across your cooking surface. These stoves are especially helpful when camping in areas of high altitude, where campfires may be prohibited. If you're looking for a better way to fuel your next meal in the great outdoors, check out these stoves to find the one that's right for you.
Propane tent heaters
As evenings begin to cool off, a propane tent heater is a valuable tool to have for your next camping adventure. Propane tent heaters use only a single one-pound can of propane, making them incredibly portable and efficient. These heaters will keep your tent warm for several hours, and they often have built-in safety measures, like accidental tip-over shutoff, push-button ignition, and oxygen depletion sensors. One-pound cans of propane are available for purchase at several Ferrellgas retail partners, such as Walmart and Lowe's.
With its many uses, propane deserves a spot on your next camping trip. If you're interested in learning how propane can play a part in more of your outdoor adventures, visit our Outdoor page.