Honoring Our Company's Heroes Today and Every Day
A Company Full of Heroes 
Ferrellgas is full of heroes. They're the people who go above and beyond to proudly Fuel Life Simply for our customers. Did you know that hundreds of our employee-owners served in a different way? This Veterans Day, we're honoring the men and women in our company who served our country by highlighting how their experience in the military makes them some of our most valued employee-owners.  
Developing Skills for Life 
It takes a special kind of person to serve our country. Among other things, it takes grit, determination, dedication, perseverance, and commitment. Not only do these skills help people succeed in the military, but they also help them succeed in life. Veterans possess the unique ability to adapt and grow, no matter what the circumstance. Our own Chairman of the Board, Mr. James E. Ferrell, is a veteran himself. Our company's respect for the men and women who have served goes straight to the top.  
Sacrifice on Another Level 
In addition to employing veterans, Ferrellgas also supports active military members. Veterans and active military service members work in every part of Ferrellgas.  
Meet Our Veterans!  
This Veterans Day, we are proud to highlight some of the veterans who work for our company. We salute each and every one of them, as well as all of the men and women across the country who have served. 
We asked a few veterans in the Ferrellgas Family to share their stories. Their heartfelt courage and resilience inspire us every day. Please join us in celebrating these amazing employees!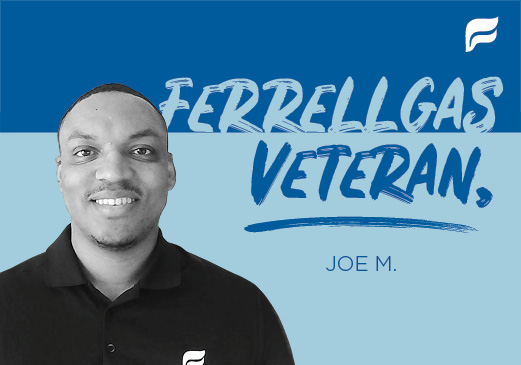 Joe M., Financial Analyst 
"I'm proud to have been serving our country since 2015 in the Texas Army National Guard as a Senior Finance Officer. After my recent deployment to Poland, it wasn't easy adjusting back to civilian life, and finding a job that fit my values was nerve-wracking. I'm thankful I found my career at Ferrellgas because of the culture. Day in and day out, I find subtle reminders that I work for a team that cares not just about working hard, but also maintaining a healthy and professional working environment."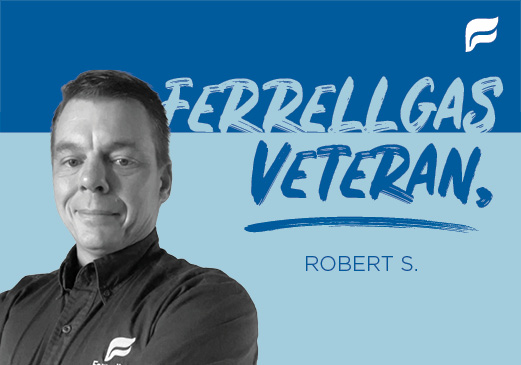 Robert S., District Manager 
"I was proud to serve our country from 1996 to 2001 in the U.S. Navy, and I am proud to wear the blue flame of Ferrellgas now. My favorite part of my civilian career at Ferrellgas is being part of an amazing team, which feels like an extended family. We are one heart, one beat."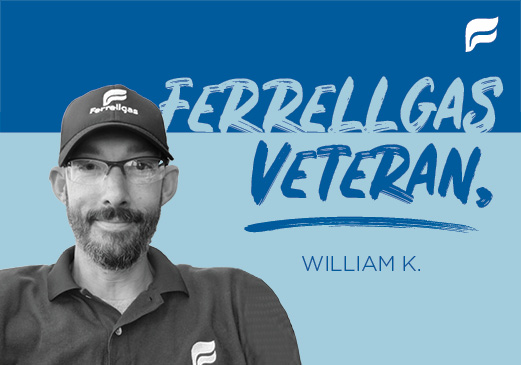 William K., District Manager 
"I was proud to serve our country from 2002 to 2010 in the United States Marine Corps. I chose to serve to protect the American freedoms and democracy across the globe. This Veterans Day, I'd like to say thank you to all my fellow veterans for their selfless service and sacrifice."  
To all our nation's veterans, thank you! Our country is free because of your sacrifice and selflessness, and it's not something we at Ferrellgas take lightly. We are proud to have so many veterans at our company and are so grateful for your commitment to your country, your career, and our customers. Happy Veterans Day!