How to properly clean and maintain your propane appliances
Spring often marks more than just the start of a new season! For many, it represents hope that warmer weather is on the way, and a chance to get some much-needed chores done around the house. Spring-cleaning is a term we hear a lot this time of year, and rightly so. Whether you're taking on big projects like a garage reorganization, or just tidying up to make things look more presentable, there's no better time for those tasks than the present.
An often forgotten piece of traditional spring-cleaning habits is checking on your propane system. With propane consistently growing in popularity due to its affordability and environmental benefits, many homeowners are now learning what goes into taking care of their propane-powered appliances. Thankfully, Ferrellgas has you covered with a few tips to keep in mind during your spring-cleaning regimen.
Understanding your propane system
Simply put, your propane system includes all the appliances and gear that rely on propane in some way to function properly. For homes utilizing propane, it's commonplace to have at least one appliance that needs a thorough check during your spring-cleaning duties. However, for those of you who rely primarily on propane as your main fuel source to power your home, you'll need to be diligent in taking the right safety measure and precautions to ensure your chores happen without a hitch. Before you get started with any cleaning, be sure to get a lay of the land and take time to revisit the manuals or safety instructions that come with each of your appliances.
Which of my home appliances run on propane?
For most propane-powered homes, you're likely to have at least one of the following appliances or pieces of equipment that will require a check during your spring-cleaning routine:
Propane oven and range
Water heater
Furnace
Propane tank
Grill
How should I clean my propane appliances and equipment?
Each of the above mentioned appliances and pieces of equipment require their own cleaning method. Some can be as simple as removing debris, while others can involve a more detailed process. Here are the steps you should take to spring-clean your propane appliances.
Propane-powered oven and range cleaning tips
Much like a conventional stovetop or range, cleaning the propane-powered version requires a keen eye and a little elbow grease. Follow these steps to clean your gas stove, oven, or range.
Start by making sure the oven is turned off and cooled down.
Remove the oven racks.
Mix one cup of baking soda and one cup of water until it becomes a thick paste.
Spread the non-toxic oven cleaner mixture over the entire oven interior.
Let the mixture sit for 12 hours.
Spray the interior of the oven with vinegar.
Wipe the oven clean.
And just like that, you've knocked one of your dreaded spring-cleaning tasks off your list!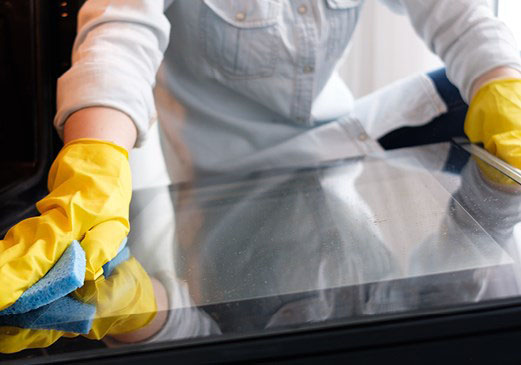 Cleaning your propane tank and grill cylinder
From large tanks that provide heat to your home to the smaller 20 lb. cylinders used for your grill, keep these tips in mind when tending to any tank.
Remove any combustible materials, such as dry grass, wood, or debris, within 10 feet of your propane tank or cylinder(s). Because propane is flammable, you do not want to risk and flare ups in your backyard or other areas surrounding your home. Removing debris also ensures our Drivers can make a safe delivery without having to worry about any obstacles in their way. While you're at it, consider marking your tank with a stake or a flag. This is especially helpful for our drivers if your tank is underground, or if you have multiple tanks on your property. 
Don't store propane cylinders or tanks inside buildings. Safety regulations indicate storing propane cylinders in a cool, outside setting to avoid possible explosions under excessive heat.
Make sure to call 811 before digging for major landscaping projects or planting new trees. This line will connect you with the Office of Pipeline Safety.
Download a copy of our Propane Safety brochure here, or call your local Ferrellgas office to request a hard copy. Inside you'll find useful tips and tricks, including a step-by-step explanation of how propane makes its way from your tank to your home.
Inspecting your propane-powered furnace and water heater
Propane furnaces and water heaters require extra care and attention to detail. We recommend consulting the manufacturer's Use and Care Manual in each of these instances before following any of these steps.
To make sure your water heater is in great shape, you'll want to perform a routine "flush" to get rid of any sediment that may have formed in the heater over time. This sediment is caused by a buildup in minerals in your water supply that hardens into sand or grit. Over time, this material can insulate the heating element of your water heater and decrease its effectiveness. To flush your water heater, we recommend referring to your owner's manual or speaking to a qualified plumber.
For your furnace, our friends at the Propane Education and Research Council (PERC) have outlined seven steps to take to perform proper maintenance. We encourage you to reach out to trained professionals rather than taking these steps on yourself. PERC recommends the following:
Conduct a combustion analysis, i.e. check for any blockage over the exhaust flue and intake pipe on the exterior.
Check the heat exchanger and burners for excessive rust, cracks, or holes and ridding the burners of dirt or other particles that can create improper combustion.
Inspect the igniter and flame sensor. Polish the flame sensor with steel wool or a wire brush to remove any soot or dirt buildup.
Measure the temperature rise. Most high-efficiency systems will increase in temperature during heating by 40 to 70 degrees when operating properly.
Check the gas pressure by measuring the pressure on both sides of the valve to ensure each is within the manufacturer's specifications.
Check for gas leaks.
Check and clear the drain.
These steps, when done by a professional, can save you plenty of headaches down the road.
Get in touch with Ferrellgas for your propane needs
So you've crossed off all the tasks on your spring cleaning checklist. Now what? Well, the next step is ensuring you have enough propane on hand to fuel what matters to you. Schedule a delivery through our MyFerrellgas account management portal, or get in touch with one of our customer service representatives by calling 888-337-7355. We can't wait to see how you put your clean propane appliances to use this season!