How to properly dispose of small propane tanks
Smaller propane tanks used with gas grills are well-constructed and designed to last for years. But heavy-duty use can sometimes be accompanied by dents and dings, pits and rust. One often overlooked fact is that propane tanks also need to be recertified 12 years after the manufacture date found on the tank's collar. It's easy to be confused about when and how to address both tank damage and recertification. Read on to learn what to do if you encounter a similar situation.
Recertification
Unsure if your tank needs recertification? Then check out this video. If your tank is out of certification, don't worry! Blue Rhino takes care of that. All you have to do is exchange the empty tank for a fresh Rhino the next time you need propane. Be sure to check to make sure your empty tank is acceptable for Blue Rhino exchange.
 
Recycling
Blue Rhino can also help with recycling unwanted or damaged propane tanks. If your tank is too damaged or not in acceptable condition for exchange, simply write "recycle" on it and place it next to a Blue Rhino retailer's propane tank display. Blue Rhino will take care of it. You can also contact a local Ferrellgas office to inquire if tank recycling is available there.

There are other options too, but they are quite limited. Many landfills, recycling centers, and scrap metal dealers will not accept grill tanks or other small propane tanks. Some hazardous waste disposal sites or local public works departments may take your tanks, while others recommend calling a propane supplier. Remember – it's never OK to put propane tanks of any kind in garbage bins for curbside trash or recycle services. This is a fire hazard as there's a chance the slightest amount of propane released could cause a fire.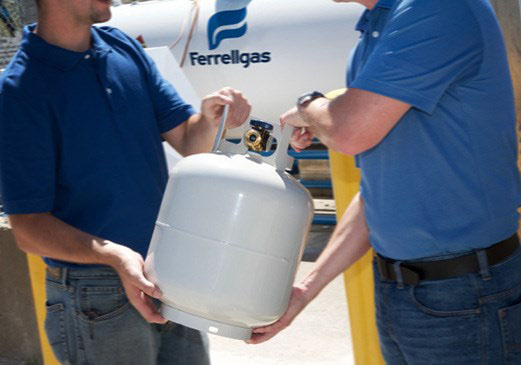 So, to recap, if wanting to dispose of a small propane tank consider these options:
Dispose of your unwanted tank at a Blue Rhino retailer location
Call your local Ferrellgas office
Call a hazardous waste disposal site
Call your local public works department
What should I do with my used camping propane tank?
One-pound propane grill tanks are typically used for camping and other outdoor activities. This one pound "disposable" propane tank is often littered at parks or camping grounds.
This, however, is highly discouraged. Even though it's a small amount of propane, it still can cause a fire if tossed in the trash or left behind at a campsite. Even more, campgrounds are charged a pretty penny when they must dispose of these small propane tank items.
To get rid of your camping propane tank, get in touch with Ferrellgas or waste disposal site or your local public works department.