How to safely store & transport a propane tank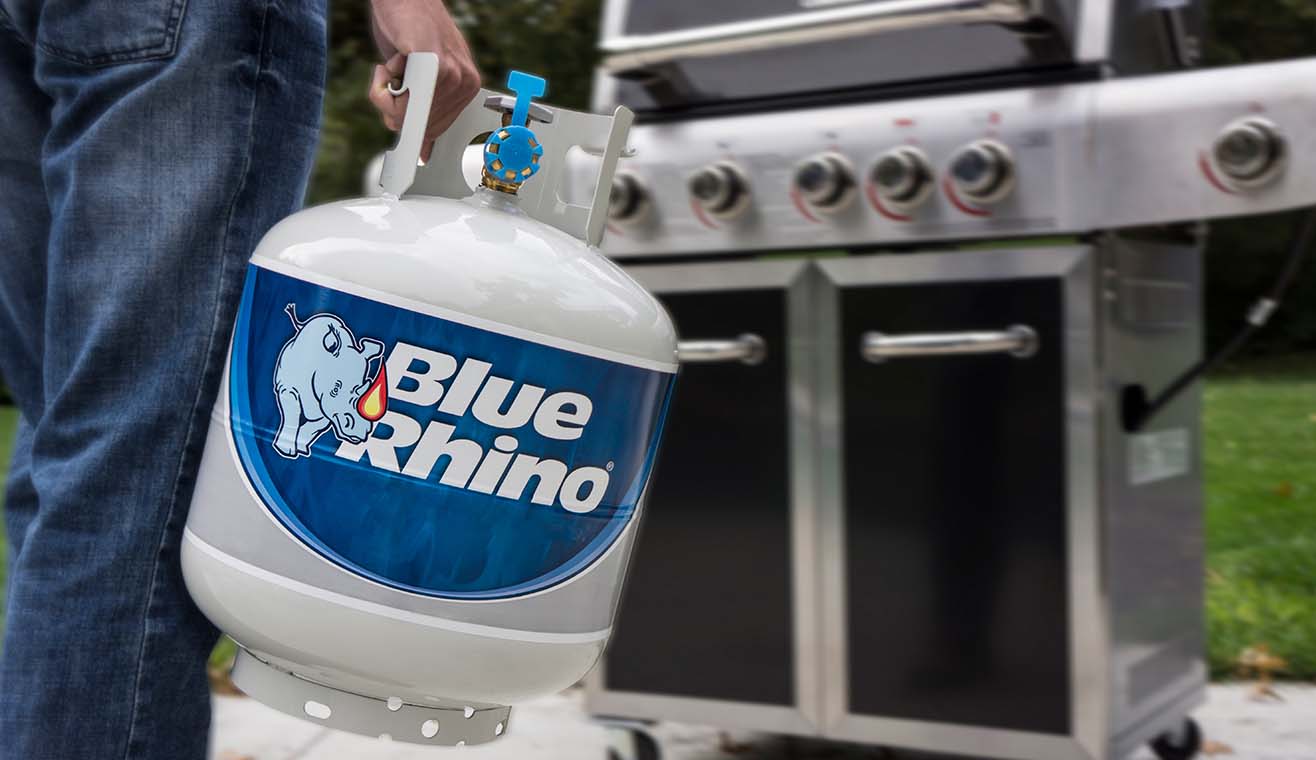 Consumers often ask for advice on how to store propane tanks, and the best methods for transporting propane tanks. While concern about keeping a flammable material on hand is understandable, following a few simple safety guidelines will give you the confidence to keep your tank in use all season. 
First, it's important to know that portable propane cylinders are exceptionally safe. They are constructed in line with high industry standards for quality, and contain additional safety features - such as pressure relief valves - that make them safe and easy to use for consumers. Accidents are exceedingly rare, and most of those are the result of a valve being inadvertently left open that allows gas to escape and gather near an ignition source. 
How & where should propane tanks be stored
Dos and don'ts of propane tank storage:
| | |
| --- | --- |
| Do | Don't |
| ✔ Store outdoors | X Store in enclosed, low ventilated areas |
| ✔ Store upright | X Store indoors, in a garage or shed |
| ✔ Store on a flat, level area out of direct sunlight | X Store in a storage unit |
| ✔ Keep 10 feet away from flammable materials | X Store near smoke or in excessive heat |
| ✔ Disconnect the tank from the grill when finished | X Avoid damp areas & excessive moisture |
Propane tanks should always be stored outdoors in well-ventilated areas. Storing propane tanks in garages or sheds is discouraged because if a valve isn't fully closed, vapors could escape and concentrate indoors. A flat, level, outdoor area that is out of direct sunlight is the ideal location. Be mindful of other flammable materials on your property and take care to store propane at least
10 feet away from those items
. Additionally, propane tanks should never be stored in off-site storage units, which aren't designed to allow enough ventilation for chemicals or flammable materials. 
Where should propane tanks be stored in the winter?
Even through the winter, propane tanks can remain outdoors and endure the elements. Ideally, overwinter your tank under your grill's cover to ensure adequate ventilation and protection from snow and ice. Be sure to disconnect the tank from your grill, however, and keep both the tank and grill away from areas that collect excessive moisture or snow. Likewise, transporting propane is safe and simple, provided you follow a handful of safety precautions. 
How to transport a propane tank
When making the trek to your home with a propane tank, it's safe to transport the cylinder inside your vehicle. 
The best practice is to ensure the tank is upright and not on its side, and that the tank is secured so it won't slide or tip during the trip. Use ropes or straps rather than chains or other materials that could damage the tank.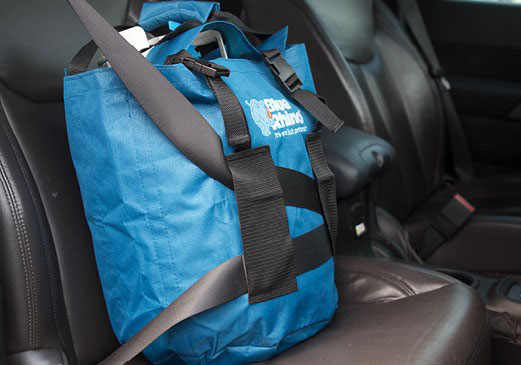 What if I don't have a strap for my propane tank?
If you don't have a way to strap the tank upright, it's a good idea to place other objects around it that will help secure the tank in place. Keep the tank on the floor, rather than the seat, and never attempt to transport more than four tanks at a time - unless you're using the open bed of a pick-up truck. 
If you want an extra layer of safety, there are products available that create a foot or base to keep the tank stable during transport. Or, an old-fashioned milk crate can do the trick just as well. 
Pro tips: 
It's always a good idea to have adequate ventilation, which can be accomplished by keeping partially open a window near the tank. 
Never try to transport more than 4 tanks at a time, unless in the bed of a pickup
Don't smoke while transporting
As soon as you're home, remove the tank from your vehicle, and move it to a safe, outdoor storage area. While it's safe to transport propane inside your vehicle, it's best to move the tank to an open area as soon as you arrive at your location.
The Propane Education and Research Council has an easy consumer guide for how to safely store and transport your propane tank. It offers easy to follow guidelines, as well as additional resources for how you can safely enjoy one of the cleanest, energy-efficient fuel sources on the market. By reviewing this information and keeping safety at the front of your mind, you'll have the confidence to meet all your propane needs - and ensure that the outdoor fun continues all season long.
For all your propane safety needs, contact Ferrellgas
Across all of our nationwide locations, we've got plenty of propane experts to help you properly set up, fill, and inspect your propane tank. Be sure to get in touch with your local office to find out how we can service all your propane needs the next time you need assistance.