How to switch propane companies
We're always amazed by the number of people who don't realize they're able to easily switch from one propane provider to another. We're talking about an innovative, customer-focused, service-first company like Ferrellgas.
Wanting to switch providers is nothing to be ashamed of. We're here to walk you through the questions, answers, and surprisingly simple steps of how to make the smart, quick switch to Ferrellgas.
Do you own or lease your tank?
The first important thing to determine is whether you own or lease your propane tank. Check for labeling on the side and/or under the dome of a tank that indicates ownership by a particular propane retailer. Don't forget, we're here to help if tank ownership isn't clear, or if you have questions.
If you own your propane tank, switching to Ferrellgas is as easy as scheduling your next fill. It's your tank and your choice, so you can have it filled by anyone. If you lease your tank from your current provider, you can easily do the same with Ferrellgas.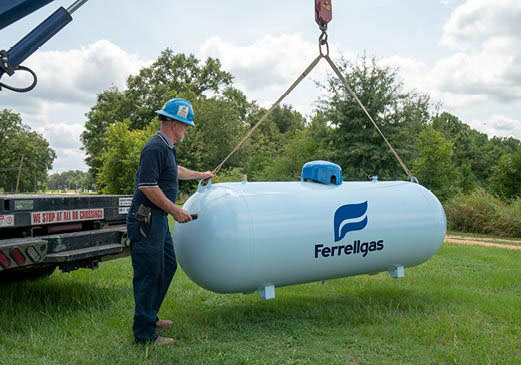 How much propane is currently in your tank?
It's also important to know how much propane is currently in your tank, especially if you lease it. Residential propane tanks must be empty before they can be removed, so avoid additional charges by scheduling your pick-up at the right time.
Ferrellgas can help you successfully navigate and make the best decision when it comes to this matter as well.
Timing is everything!
It's important to understand exactly how much gas is left in your propane tank, so we can appropriately time your switch to Ferrellgas. The last thing we want is for your existing tank to be removed too soon, leaving you without propane before the installation of your new tank. We'll work with you to monitor your usage and time your current tank's removal before installing the new one.
Enjoy first-class service with Ferrellgas
Once your new tank is set and you've officially made the switch to Ferrellgas, relax and enjoy all the benefits that come with being our customer.
With our free online MyFerrellgas customer portal, a variety of delivery and service options, and helpful payment options, we make being a propane user a breeze!