How to use propane to heat livestock water tanks
There aren't many who can claim to work harder than America's farmers. After all, feeding hundreds of millions of people is a pretty big job! But with few days off and many dealings with Mother Nature, it's not a career for the faint of heart.
One important aspect of farming is providing plenty of water to livestock. To remotely satisfy these thirsty animals, the water must always flow. But as we all learned at a young age, water turns to ice when temperatures dip below freezing. Like the rest of us, animals need lots of water to drink and in some cases (like horses) appreciate a warm shower or bath. Ice a.k.a. solid water simply won't do the trick for anyone – animal or otherwise.
For more than 80 years, Ferrellgas has delivered propane. And as we've expanded our agricultural services to farmers across the country, we learned from many of them just how much propane is needed to break the ice… Because you can lead a horse to water, but it won't be able to drink if the only option available is solid as a rock. Here is just a fraction of the valuable information about propane-powered livestock heating solutions:
What are different ways to heat water used by livestock?
Like most homes and businesses, water on farms is usually heated by electricity, natural gas, or propane. Wood has also been used when insulation alone won't work, and you need a more readily available fuel source. So why use propane? Keep reading.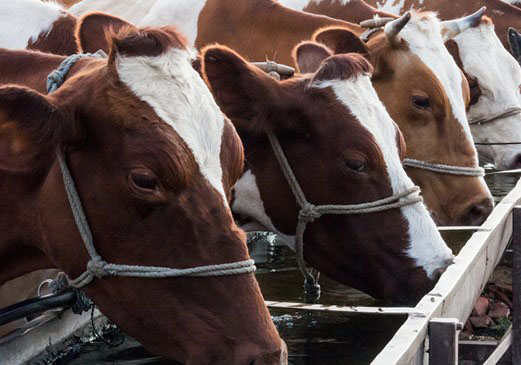 Is propane less expensive than other fuel sources to heat water?
There are a number of great benefits to propane-powered water heaters, especially compared to similar electric units. Bottom line, propane water heaters are for those who want to use less energy, lower costs, and lower harmful carbon dioxide emissions. And if you're ready to switch to propane – as many homeowners have – choose Ferrellgas.
What's the environmental impact of tanks heated by propane as opposed to other fuels?
Environmental impact is more important than ever, so a smart decision like propane plays a significant role in our world's low-carbon future. Whether you're fueling engines on the farm, appliances in the kitchen, school bus fleets, or generators, propane is a green-energy leader.
Are there any other benefits to using propane?
One helpful advantage to a propane-powered stock tank heater is its mobility. Like other outdoor gadgets and gizmos, there's an ease and convenience to propane, especially in areas without access to electricity.
Propane water heaters are versatile, cost-effective, and the environmentally friendly way to go – just ask any of the pros at Ferrellgas! Find a location near you, give us a call at 888-337-7355, or start a chat with a propane expert from anywhere on our website.