Is your gas fireplace ready for winter?
Gas fireplaces can easily boast a number of important benefits when compared to their wood-burning counterparts. For example, gas fireplace owners don't have to chop or purchase wood, find a place to store and protect it, or venture out into the elements to lug a fresh log or two from the shed or yard to the house as needed. Gas fireplaces turn on and off with the flip of the switch or turn of the key, and are ready in an instant when it's time to read a bedtime story or cuddle up on the couch with that special someone. Plus, there's never a need to clean up those dirty and pesky ashes once the fire is out.
Clean your gas fireplace to keep it working like new
Since gas fireplaces burn cleaner and are easy to care for, some assume that this means it doesn't need a proper cleaning. While it's true that gas fireplaces are both efficient and low maintenance, it's a fact that any appliance, if neglected, can become a problem. Due to the hard work it puts in to heat your home, the inside and outside of your gas fireplace should be cleaned every so often to prevent buildup and keep it functioning flawlessly all year round. Look over your owner's manual, follow the manufacturer's instructions, and use approved cleaning products to ensure you're handling your unit properly. 
Prolong the life of your gas fireplace with an annual inspection
There's no risk of soot or tar building up in the chimney of your gas-burning fireplace. That's the good news. The bad news is the absence of these substances make these chimneys a welcome wintertime home for birds. Clogged burner ports or ceramic logs that have shifted and may need to be returned to their original and correct position can be culprits as well. That's why, just as they do with wood-burning fireplaces, experts recommend that gas fireplaces be checked annually by a trained professional. While it's never much fun to be without a fireplace even for a couple of hours, you can help speed up the process by avoiding using the fireplace for at least two hours before the technician arrives, and by turning off the pilot light and switching off the gas supply.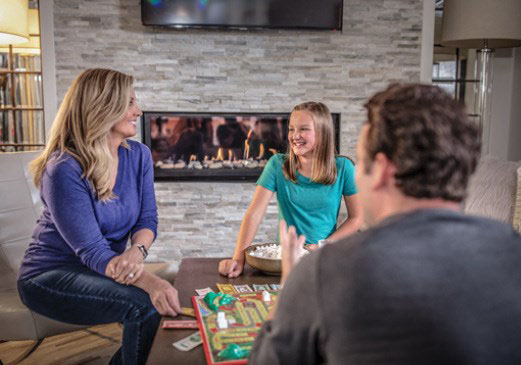 Winter will make its triumphant return before we know it. But have no fear, fireplace aficionados. There's still plenty of time to have your fireplace cleaned, checked, and ready to go before temperatures dip for good.