Left Foot Charley, Ferrellgas provide warmth to wine and cider lovers in northern Michigan
Like many businesses across the United States, Left Foot Charley was recently forced to get creative. And did they ever.
After a nationwide shutdown and a temporary decline in profits, Left Foot Charley, a winery in Traverse City, Michigan, began offering food and drink via to-go and curbside services.
As those services kept the popular wine and cider joint afloat during the beginning stages of the COVID-19 pandemic last spring, Kristy, a veteran in the hospitality business, was hired to expand Left Foot Charley's Barrel Room and to help maximize the space on the property with outdoor dining options. She did just that by adding reserve wine tastings, creating an outdoor garden to their Barrel Room, and executing a new wine-by-the-glass experience for customers to enjoy year-round.
While making these changes and improvements to increase profits during the comfortable summer months, Kristy had her sights set on the future. She knew what was coming. Colder temperatures were on the horizon, which meant less business as indoor seating restrictions remained.
With the temperatures quickly dipping in northern Michigan, Kristy knew just the solution for a successful outdoor dining experience to attract locals and tourists alike to Left Foot Charley, located at The Village at Grand Traverse Commons: propane.
"With the heaters on the patio, we were able to serve about three times the amount of people when we'd have indoor seating," Kristy said. "It's allowed us to make tens of thousands of dollars more. And we are planning on using them all winter."
Left Foot Charley acted quickly and well before the official start of winter – Dec. 21 this year – to take certain measures to boost their outdoor dining experience. At first, with a stronger need for propane to fuel their patio heaters and fire pit tables, Left Foot Charley made several trips to pick up propane grill tanks from a local hardware store. But with many businesses and homeowners doing the same, it became difficult to secure more than one grill tank at a time.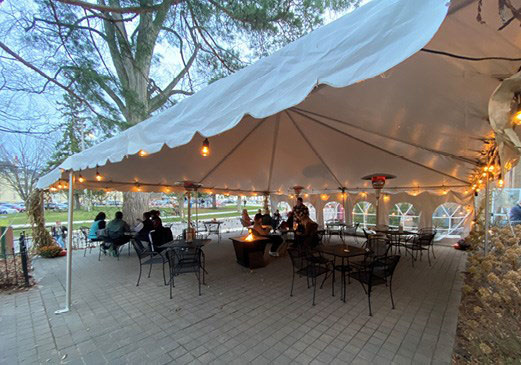 So, eventually, Left Foot Charley was in the market to find a propane supplier. Kristy gathered quotes from multiple providers, but Ferrellgas stuck out from the rest. And it all started with our talented sales team.
"[Ferrellgas Account Manager Cory] went above and beyond," Kristy said, adding that she had to text her salesperson as she waited on tables. "He didn't mind that. His communication was amazing. He was able to acquire a cage for us, so we can store the propane on site. … The two younger guys that delivered were really helpful."
The ease of securing propane services with Ferrellgas was an easy process, according to Kristy.
"When we heard the price of delivery, we were like 'What? This is amazing!'" she said. "What's unique about Ferrellgas is the delivery. We're all busy and short-staffed. At the winery I used to work at, we'd have to send somebody into town. That takes time, money, and fuel. The fact I don't have to think about that … The crew is just doing it for us. I've never heard of anything like it.
"We're going through a decent amount of propane. It's definitely been more cost efficient than we thought."
Now that they have a consistent flow of propane fueling their exceptional outdoor experience, Left Foot Charley's customers can stay warm and the wine and cider business can continue to hum.
"Because of the propane we are now able to open Wednesday through Saturday, 12 to 7 p.m., where before we would've just done curbside and to-go," Kristy said. "People feel warm if they're around fire. It's innate in humans. Fire keeps us together."
How can we service your propane needs? Give us a call!
Are your propane needs greater than they once were? At Ferrellgas and Blue Rhino, we're here to take the pain out of propane. See if your business fits with Ferrellgas, or give your local Ferrellgas a call!