Make Independence Day a breeze with these handy tips!
Do us a quick favor. Take your hand off your mouse, keyboard, or smart phone and raise it high in the air if you're like us and can't wait for Independence Day! Yep, we thought so.
What's not to love about Independence Day? It's like a giant birthday we get to celebrate with all of America and one that gives us yet another perfect reason to fire up the propane grill – just make sure you have plenty of propane on hand!
While Independence Day is an important holiday, it's not one worth getting worked up about. Instead, make your holiday weekend all about food, family, and fun with these tips for the perfect, patriotic cookout!
1. Pick your recipes
There are so many great recipes for Independence Day celebrations of all sizes. So many, in fact, it can be a challenge to find the right ones. Here are a few we think would be perfect to add to your menu this year.
Patriotic burger – What better entrée is there for your red, white, and blue celebration than a patriotic burger? This one gets a special nod from us for including crispy pancetta aioli. Check out the fun side dish suggestions for this holiday treat!
Barbecued chicken – If burgers aren't your thing (heck, even if they are), how about adding barbecued chicken to the menu? It seems like a party fowl if we don't. This recipe may be light on ingredients, but it's sure to pack all the spicy flavor you crave.
Recipes featuring beer – We're not here to condone drinking and grilling, it would be irresponsible to not remind you that there are a bunch of great grilling recipes that call for a frosty beverage. Whether it's beer-steamed bratwurst or a pale ale marinade, we've got the best-in-brew recipes to choose from. Cheers!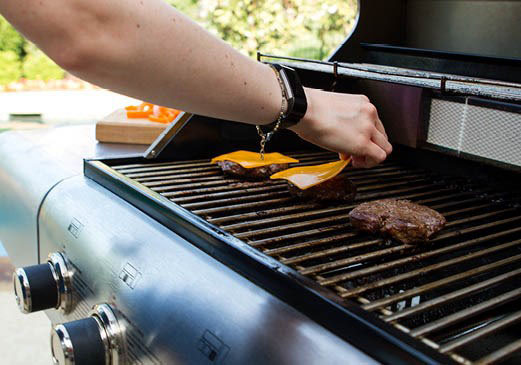 2. Use our handy grilling tips
It's never a bad idea to brush up on grilling techniques. See what we did there? But seriously, the Fourth of July does only come around once a year. Make yours one for the books these helpful tips.
Clean your grilling surface – We hate to break it to you, but your grilled dishes won't be that great if your grate isn't. A clean grilling surface is absolutely essential each and every time you grill.
Indirect grilling – Thicker cuts of meat are a great choice for your celebration, but only if you know the right way to grill them. We like to think we know a thing or two about indirect grilling, which is a smart solution to this delicious dilemma. Become a pro prior to your next cookout with this helpful video.
Grilling temperature guide – Perfect cuts of meat? Check. Spices, rubs, and sauces? Check. Ability to grill every meat to the preference of your party guests? Check! But only with our handy guide.
3. Don't forget the propane!
Now that your menu is complete and you have more grilling confidence than ever, what's left? That's right, the propane! Don't forget to exchange for a fresh, clean, leak-tested Blue Rhino tank or get refilled at a Ferrellgas location near you. After all, the worst thing you can do is not have propane on the big day!
From all of us at Ferrellgas and Blue Rhino, have a happy and safe Independence Day. You've got this!