National Farmer's Market Week: Celebrating the Power of Propane
We know a fan-favorite weekend activity is checking out the local farmer's market. Not only is it a place to bump into friends, but it always offers delicious foods to bring home and prepare in your propane-powered kitchen or out on the grill. Farmer's markets can be found all over the country from small towns to our nation's largest cities. In fact, the Farmers Market Coalition reports that there are more than 8,600 active markets in the United States.
These thousands of markets wouldn't be possible without the farmers who work year-round to provide fresh produce, grains, and meats for you to take home. According to the Propane Education & Research Council, approximately 40 percent of American farms use propane as an energy source for their operations, so it's safe to say that some of the items you buy each week made it there with the help of propane.
As we celebrate National Farmer's Market Week, let's also celebrate the important role propane has played on farms for decades. Keep reading to learn how farmers are using propane to lower costs, reduce harmful greenhouse gas emissions, and more.
Irrigation engines
Propane-powered irrigation engines reduce greenhouse gas emissions by 20 percent compared to traditional gasoline and 11 percent compared to diesel. Plus, because propane turns into a vapor at temperatures above -44° F, there's no risk of spillage or soil contamination. From winery orchards to agriculture collectives, propane irrigation engines have become the smart and logical choice. It's no wonder farmers across the country use propane for a clean and quiet operation.
Greenhouse heat
Both amateur gardeners and professional farmers know that propane-fueled greenhouses are a great way to extend the growing season. Whether portable or permanent, heating units are available to provide growers with options outside the natural gas grid. Most importantly, heating a greenhouse with propane is less expensive when compared to electric units and passive solar heat.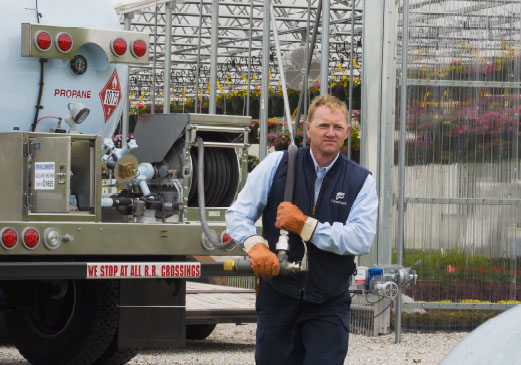 Brooder house heat
When it comes to raising chickens, goats, pigs, and other livestock, propane wins again, providing the consistent heat they need at lower costs. In fact, propane-powered infrared poultry brooders lower fuel costs up to 25 percent compared to forced-air furnaces.
Flame weed control
Propane flame weeding is an effective solution for backyard gardens and large agribusiness alike. There are several pros to using propane flame weed control, which is a more safe, environmentally friendly, and organic solution to harmful pesticides. In addition to the environmental benefits, propane flame weeding is also relatively inexpensive. Flame weed control options range from portable devices (powered by a Blue Rhino tank) to those attached to tractors and fueled by larger, permanently affixed propane tanks.
So the next time you attend a local farmer's market, be sure to talk to the vendors there about the role propane may have played in their offerings!
Ready to enjoy the benefits that come with using clean-burning, efficient, and economical propane? Give Ferrellgas a call today to learn about our service options and what would work best for you.