Prepare for Memorial Day with these delicious barbecue recipes!
Ah, the joys and smells of grilling season. Picture this: the sight of flames elevating to the turn of that perfect cheeseburger or steak. And take a whiff of this: the intoxicating smells of meat as you wrap up a grilling session.
There's no weekend better suited for grilling than Memorial Day. Although many have already fired up the grill this spring, for others this weekend may be the first time in front of your grill. If the latter is the case, then you'll want to make sure you have enough propane. Running low? Find a local Ferrellgas location or a Blue Rhino tank near you.
OK, now, to help you celebrate the Memorial Day weekend and prepare you to feed your crew, we've provided seven recipes for your viewing pleasure. Our good friends at Blue Rhino are the masters of recipes for grill masters everywhere, so we're tapping their archives to bring you quality barbecue options for Memorial Day.
So, without further ado, here's the list:
Who doesn't love a delicious appetizer? Let's face it. Everyone's starving while the grill master works their magic on the main course. This shrimp is loaded with flavor that features apples, strawberry jam, honey, and, of course, that juicy irresistible taste of shrimp. After refrigerating the apples and shrimp for 30 minutes, place them onto skewers and then on your preheated gas grill for five minutes per side or until the shrimps are opaque. Finally, enjoy!
These easy-to-make chicken wings are another delicious precursor to any meal that comes off your grill. These wings are as straightforward as they come. They can be served to your guests in less than an hour with an approximate 15-minute prep time and 30-minute cook time. Enjoy these wings with an appropriate hot sauce catered to your guests' preference.
Boom! I mean, this is about as American as you can get! This delicious burger, featuring Campari tomatoes, grilled red onions, butter lettuce, and blue cheese, is a perfect complement to Memorial Day. To top it off this recipe calls for a Brioche bun!
Have you been craving or wanting to try a barbecue burger? Well, this recipe is for you! This irresistible burger touts a homemade barbecue sauce that will provide a unique twist to your grilling recipe lineup. Topped with a slice of cheese, cabbage, and a lightly toasted bun, this burger is ready to satisfy any taste buds!
Want to keep things simple? Try the Wisconsin Bratwurst. If you want a more quality brat, it's encouraged to get one from a sausage shop. You won't regret it. Once grilled to perfection, these brats are to be placed inside hoagie rolls alongside some onions to provide amazing flavor.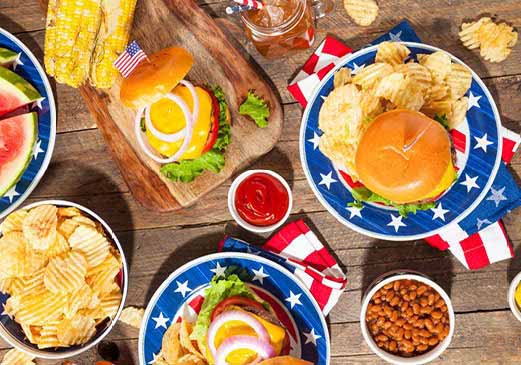 Don't forget a side dish! Check out this fine potato salad recipe. It calls for potatoes, eggs, green onions, sweet pickle relish, a carrot, a dill, mayo, and sour cream – all combing for a flavorful dish!
There's always room for some dessert! This simple – the recipe calls for only pineapple, sugar, and cinnamon – and sweet dessert will impress your guests as the perfect ending to your cookout. This treat will help set a vacation-type feel right from the comfort of your own backyard.
Contact Ferrellgas for your propane needs
Now that sounds like quite the Memorial Day cookout. You'll surely knock this holiday cookout out of the park with these top-notch recipes, providing a Memorial Day for the record books! But before you get started, be sure to stock up on enough propane to fuel your backyard barbecue. Visit one of our local Ferrellgas offices and fill up you grill cylinder before the big holiday!