Propane autogas: The fuel of the future
The benefits of propane autogas stretch far and wide. On top of fuel savings and lower maintenance costs, autogas provides a driver with the peace of mind that their vehicle will start, warm up quickly, and deliver comfort throughout their commute.
For Shawn Brady, Director of Transportation at the Grain Valley School District in Grain Valley, MO, the choice to switch from diesel to autogas as the primary source of fuel to power the district's school buses was an easy decision after weighing the options. Now, nearly 30 percent of his fleet is powered by Ferrellgas propane, and both the students and the district are reaping the rewards.
As Shawn explains, everyone enjoys the feeling of riding in a new bus, but when he saw how autogas buses would affect the district's bottom line, the decision to transition away from diesel was one that would significantly return the investment.
"We're seeing that diesel prices are more than unleaded now, so the cheaper technology that schools grew up with to run their fleet on is now no longer the case," Shawn said. In comparison to even diesel prices of the past, the cost per gallon has nearly tripled in some areas over the past 20 years, according to the U.S. Energy Information Administration.
Cost is also an important factor when discussing maintenance and upkeep of propane-powered vehicles in comparison to other fuel sources. With less moving parts to worry about in an autogas bus, costs over time do not build up as they would with a traditional diesel engine.
"Since the engine (of an autogas bus) is burning a clean fuel, the manufacturers don't have to add extra technology features to the engine to make the exhaust stream clean," Shawn said.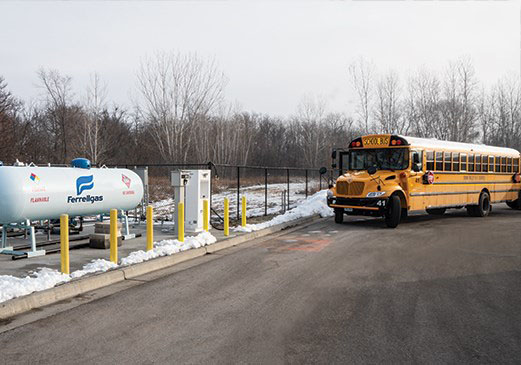 The opposite is the case for diesel. Many diesel buses now come equipped with a diesel particulate filter that captures and stores exhaust soot. Modern day environmental laws require these filters in order to do away with large smoke clouds that emit harmful pollutants into the air. But while this piece of technology is incredibly important, it doesn't come cheap. Diesel particulate filters often cost anywhere between $5000 and $10,000 to replace if they experience any problems, meaning this could drastically shift budget plans for an entire school district should anything go wrong.
Comfort can also play a vital role in a district's choice to switch to autogas. As Shawn explains, the huge advantage of an autogas bus is its ability to warm up to a desired temperature far quicker than a diesel bus would.
"We've experimented and tried idling the diesel bus all night to see if it would stay warm, and what we've learned is that whether we start it two hours before it's time to go, or eight hours before it's time to go, that bus just idling is not really heating the cabin of the bus," Shawn said.
"With the propane buses, we don't need to start them more than 20 minutes or so before it's time to go, and that engine does warm up by idling," he said. "I stepped on a bus the other morning that had been idling for a little bit, and it was the hottest bus I'd ever stepped on. I had to open the windows after I turned off the heat just to be able to sit in there and drive down the road to a school to get a kid."
For Shawn, that is reason enough to make the switch. As the Director of Transportation, his main concern is the well-being of students that ride the district's fleet, not only to school, but to extracurricular activities like sports, speech and debate, and band competitions. By giving these students the most comfortable experience possible, Shawn and the Grain Valley district drivers provide peace of mind to them and their parents.
Several of the school districts in the Kansas City area have begun to move away from diesel, and Shawn believes that is the right choice. By selecting the autogas alternative, Shawn knows his district will be in good hands moving forward. Their experience with autogas shows the benefits of it from both a cost and comfort perspective.
As the district grows, Shawn plans to increase the number of propane-powered vehicles that help transport its students, with plans to add seven more autogas buses in 2019. With his vision and the power of a clean burning and cost-efficient fuel, the Grain Valley School District will be an example for all districts for years to come.
If you're looking to move your fleet to autogas, be sure to contact your local Ferrellgas office for ways to do so.