Propane patio heaters extend outdoor dining season
Restaurateurs know there's quite a bit more to running a great business than creating the perfect menu. Ambience is more important than ever to today's choosy diners, which is why many of our nation's top restaurants are utilizing propane-powered patio heaters.
The best complement to the perfect meal with family and good friends is having the opportunity to enjoy it outside under the sun or the stars. Propane patio heaters give restaurant owners and managers that unique ability to extend their outdoor dining season … and their profits.
Propane patio heaters are extremely versatile and come in different models that emit heat by convection, forced air, or infrared heating. Gas heaters also vary in capacity, output, adjustability, size, and capacity, which make them a great option for homeowners as well.
What size patio heater do I need?
Most propane patio heaters will specify their coverage area in square feet and BTUs. The size of the heater you need will depend on how big an area you're trying to heat, and how much you're trying to raise the temperature. For example, an area of 10 square feet that you want to raise from 60 degrees to 70 degrees up to eight feet from the ground will need 800 cubic feet times 10 degrees, or 8,000 BTUs.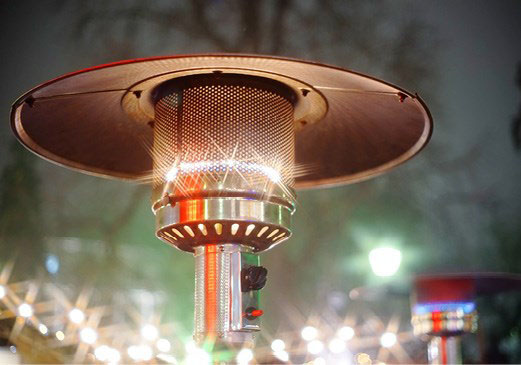 Experts are predicting colder than average weather this fall and winter, meaning a propane patio heater can help comfort your customers in outdoor dining areas. A number of these heaters can be found at big-box stores including Walmart and Home Depot, and online on Amazon.com. Your local Ferrellgas office can certainly steer you in the right direction as well.
Patio heaters operate using the same tanks used in propane-powered grills. Thanks to the thousands of Blue Rhino tank exchange locations and the thousands of Ferrellgas reseller and dock locations nationwide, it's easy to keep these heaters fueled and outdoor dining enthusiasts happy year-round.
To find a Blue Rhino tank near you, simply use our location finder or visit our Grill Tank Exchange and Refill page for more information.