Propane pool heaters keep the party going year-round
You've made a huge investment installing a swimming pool that is the envy of the neighborhood. Wouldn't you like to enjoy it year-round? When you add a propane-powered pool heater to your backyard oasis, you're able to do just that.
No matter where you live, chances are there will be a number of days in any given year when the temperatures are just cool enough to keep you, your family members, and your guests out of and away from the pool. But a propane-fueled pool heater enables you – not Mother Nature – to dictate when your pool is open and when it's not.
What are the advantages of a propane-powered pool heater?
Those who have a propane water heater in their home already know the many benefits of heating water with gas, including faster heating and lower energy costs when compared to electric models. You can enjoy much of the same when you avoid electric and solar-powered pool heaters, and add propane water heater technology to your pool.
Installing a pool heater is easier than you might think. Those already using propane at home can simply run an additional line from their propane tank to their pool heater. Those who are new to propane can have a tank quickly and easily set at their home and a gas line run from the tank to their pool heater (and a myriad of other propane-fueled outdoor living products).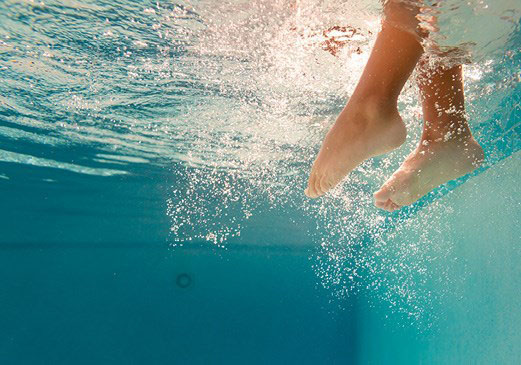 How large should your propane pool heater be?
An important first step is determining what size propane pool heater you'll need. Gas pool heaters are rated by British thermal unit (Btu) output. Appliance outputs can range from 75,000 Btu to 450,000 Btu. A trained pool professional can perform the proper analysis to determine the appropriate pool heater size for you. According to the Department of Energy, to find the proper sized pool heater, these professionals examine several factors, including the surface area of your pool, the difference between your pool and the average air temperatures, and the amount of wind exposure your pool may have. Most gas pool heaters also feature their efficiency percentage on their nameplates. Be sure to consult with the company you purchased the pool from, the main manufacturer, or give your local Ferrellgas office a call to find out if your propane pool heater is right for you.
So get ready to kick back and relax, make sure your poolside music playlist is complete, and that you have plenty of tiny umbrellas on hand for all those extra drinks you and your friends will get to enjoy. Like always, propane has you covered.