Propane's shelf life makes it the envy of gasoline and diesel
Maybe it's been a couple of years since you fired up the hot rod in the garage. Or perhaps you haven't used the lawnmower or snow blower since putting them away for the season.
These gasoline-fueled applications are all designed to help make our lives easier and more enjoyable. But none of them will do you much good if the fuel they're using has gone bad.
According to Richard Stanley, a former chemical engineer for Texas-based Fluor Corporation and Ascent Engineering, gasoline can lose important volatile compounds to evaporation if it is stored for too long.
"If you leave gasoline by itself, over time…it just doesn't perform the way you think it's going to perform," Stanley said.
On average, gasoline has a shelf life of three months, while diesel, if kept cool and dry, can be stored for anywhere between six and 12 months. However, experts say fuel stabilizer additives should be used when storing unused gas for more than a year and that getting new gas every six months (at the start of both summer and winter) is a good rule of thumb.
That can feel like a lot of reminders to add to your already full to-do list. Fortunately, there's a better fuel option out there.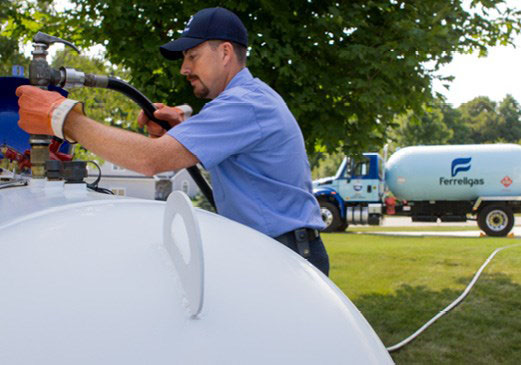 Rufus Youngblood, Director of Safety for Ferrellgas and a member of the technical committee for the NFPA 59 (Utility LP-Gas Plant Code), says if the propane container and valve are in good shape, storing propane for 10-30 years or more shouldn't be a problem.
"While both gasoline and diesel fuel degrade with time, propane never goes bad," he said. "It won't degrade through any natural process like it can with other fuels. That's why propane is a great choice for applications like emergency generators that may only see use every handful of years."
In addition to standby generators, propane is also optimal for your lawn equipment. Gone are the days of running your gas tank to empty before storing it for the winter. With propane, you can simply clean up your lawn mower and store it until the following spring. When the time comes to dust it off, you can rest easy knowing that your propane hasn't gone bad. And if you're ready to make the switch to a propane-powered mower, consider these mower manufacturers.
With an indefinite shelf life and a growing number of energy-efficient applications, propane remains the ideal fuel choice for homeowners, farmers, and business owners nationwide. If you're interested in powering your life with propane, look no further than your local Ferrellgas office.