Refill or exchange? For propane grillers there is no wrong answer
Spring is officially here, marking the time when many propane-powered grills make their triumphant return to decks and patios everywhere. But before the steaks can be marinated and even a single thought given to side dishes, you better make sure you have plenty of propane on hand to help put that perfect meal on the table.
When heading out the door with an empty propane cylinder, grillers have an important choice ahead of them—should they refill the tank or exchange it for a new one? Thankfully, it's a question without a right or wrong answer because there are thousands of convenient locations across the country that allow faithful grillers to do both.
Let's start with those who prefer to refill. Hey, we get it. It's your tank. Maybe it's the one that came with your grill. Perhaps it's the same tank you used to grill the feast that still has everyone in the neighborhood talking. Either way, that baby is yours and the very last thing you want to do is return home without it. Refillers have the option to take their propane tank to one of hundreds of Ferrellgas locations across the country, or any of the thousands of gas stations, hardware stores, and other local businesses that resell Ferrellgas propane. Ferrellgas location pages list both the cylinder refill capabilities and dock hours of participating locations, and our friendly local employees can also steer folks in the direction of the closest resellers.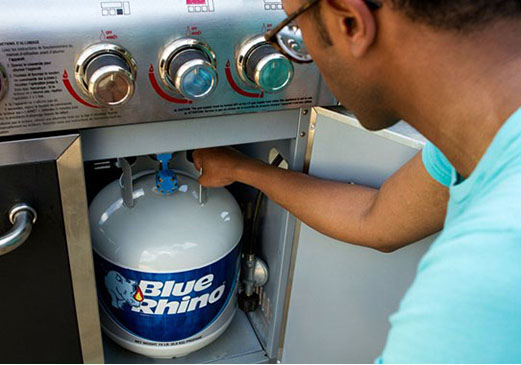 Blue Rhino is the nation's leading provider of propane by portable tank exchange as well as a division of Ferrellgas, so we clearly have an affinity for the exchangers of the world as well. With more than 50,000 Blue Rhino exchange locations across the country, chances are you won't have to drive far to drop off your old propane tank and bring home a fresh, ready-to-grill tank. Exchange locations can also be found by texting FIND to 75653. Empty Blue Rhino tanks can then be refilled by the user or taken right back and exchanged for another one. Our friends at Blue Rhino will tell you it's a process as easy as Drop, Swap, & Go. And when there's important grilling to do, easy sure can come in handy.
Enjoy grilling season, everyone, and rest easy knowing both Ferrellgas and Blue Rhino have you covered when you need propane!