RV power source: propane vs. electric powered RVs
A relaxing weekend at the lake or an epic cross country road trip in a fully-loaded Recreational Vehicle (RV) can generate experiences and stories that last a lifetime. Yet, planning for such an adventure includes questions about the most practical and readily available RV power source for your getaway.
Propane offers more versatility & flexibility
Propane is among the most versatile and functional fuels to power your RV or motorhome appliances. In addition to powering your outdoor grill, liquid propane – or LPG – can be used to power the RV's furnace, stove, oven, water heater, and even the refrigerator. In fact, many travelers exploring the RV refrigerator propane vs. electric question find that propane gives them more flexibility and freedom on the road.
With propane, all of your energy needs are on-board no matter where you decide to roam. And because propane is largely produced in North America and supported by a robust distribution network from companies like Ferrellgas, you'll never be far from a refilling center.
Never worry about campgrounds with electrical hookups  
Unlike electric-powered appliances, propane gives you the freedom to indulge your wanderlust, regardless of where it might take you. There's no need to research campgrounds with electrical hookups, or map routes that end your day at a specific location, chosen solely because of the need to power up your appliances.
With propane, you'll have the freedom to change plans, or alter your adventure, because you'll always have what you need to keep your RV comfortable.
Propane is more cost-efficient
In addition to its unmatched versatility that makes it an ideal RV power source, propane is also more cost-effective.
Throughout the year and the country, propane is a lower-cost fuel than electricity or other petroleum-based energy sources. Most RVs utilize a 30-pound propane cylinder, which holds 7 gallons of propane and weighs approximately 54 pounds. Under normal operating conditions, you can expect a full tank to last upwards of a week if you're powering the heater, hot water tank, stove, and refrigerator on propane.
Some RVs come equipped with dual tank systems, which allow even longer use between refills. Your local Ferrellgas supplier can help you determine which size tank would best meet your on-the-road needs.
More Benefits of Using Propane to Power Your RV
Aside from the ease and convenience of propane, there are a number of other advantages to a propane-powered RV.  
It's a highly efficient and environmentally friendly fuel - placing fewer pollutants and exhaust in the air than comparable fuels.  
It's also a non-toxic, non-greenhouse gas that doesn't harm animals, plants, or people – so you'll be able to enjoy the scenic vistas while knowing that you're doing your part to help protect and preserve them.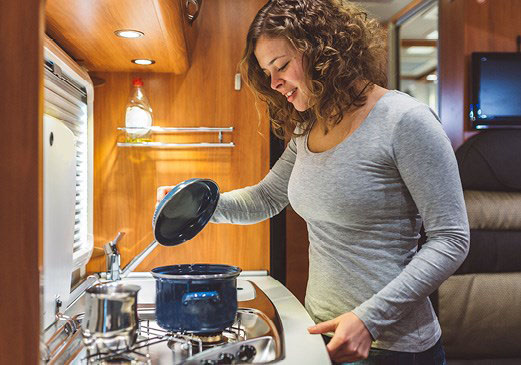 RVs & Propane: Safety Precautions to Consider
As with any power source, there are a few simple safety precautions that can help ensure years of safe and reliable use for your propane-powered appliances. 
Before Your Trip
Check your fuel gauge regularly to ensure you'll have all the propane you need before hitting the road.  
Regularly check exterior vents for debris, insects, dust, or vegetation to ensure that exhaust systems aren't.
Inspect propane cylinders and holding brackets for signs of rust, corrosion, damage, and wear. If you notice anything out of order, ask a certified service technician to follow up. 
Take time to examine fuel lines and connections for signs of wear or damage. 
Ensure that your RV is equipped with at least one Class BC fire extinguisher, as well as working propane, carbon monoxide, and smoke detectors.
On the road
Best practice is to turn off propane systems while driving. Most RV refrigerators can keep food cool for several hours without power. 
When refueling, make sure everyone exits the RV and that all igniters, pilot lights, and appliances have been turned off. 
Don't use stovetop burners as a heating source, or use any appliance for anything other than its intended use.  
Extinguish all open flames, including smoking materials, when you are near filling stations. 
Turn off all supply valves before entering enclosed areas, such as tunnels, or in restricted areas, such as military bases. 
At the campsite
Open a window and use your RV exhaust fan when using your stove. 
Do not use outdoor cooking equipment – like grills or smokers – indoors.
Keep your RV a safe distance away from heat sources such as grills and fire pits. Keep propane cylinders at least 10 feet away from any heat source. 
Always ensure proper ventilation for all your appliances. Your manufacturer's safety instructions can help guide you for the proper requirements.
If you ever smell the signature "rotten egg" smell of gas...
Be sure to extinguish any flames or sparks, and quickly turn off all supply valves to eliminate the flow of propane into the RV if you smell "rotten eggs". Open all the doors and windows to increase ventilation, leave the area, and contact 911 or the local fire department for assistance. Once the area is safe and secure, have a qualified service technician locate and fix the leak.
When exploring the best way to power your RV adventures, you'll find that propane is the most versatile, available, affordable, and environmentally friendly fuel available. With onboard storage, you'll always have what you need when you need it - regardless of where the road ahead may lead you.
Exchanging or refilling your propane tank is easy with Ferrellgas
Whether you're looking to refill your RV cylinder or exchange a propane tank, Ferrellgas has you covered. Find a location near you today.