Safe propane equipment helps ensure safe operations
Ferrellgas has been America's leading propane company for more than 80 years now. It's a title we claim proudly and it's in large part is due to the steps we take to ensure the safety of our employees and customers in the thousands of communities we serve. It's a tremendous responsibility we take quite seriously.

Part of our commitment to safety includes investment in equipment that effectively serves our many valued customers. Ferrellgas boasts one of the largest fleets in the propane industry, which enables us to effectively serve customers across the country throughout the year. Now you may be wondering: How does the propane delivery process work, and how safe is it? Read on to find out!
The propane journey
It's not something many stop to think about, but the journey propane takes before it arrives at your home, farm, or business is an interesting one. Propane is produced via natural gas processing and the refining of crude oil. Next, it's either picked up directly by a transport truck, or delivered to a Ferrellgas location by railcar or pipeline, where it's then taken to the nearest Ferrellgas storage depot. It's then delivered to nearby customers, who use it to fuel their various needs.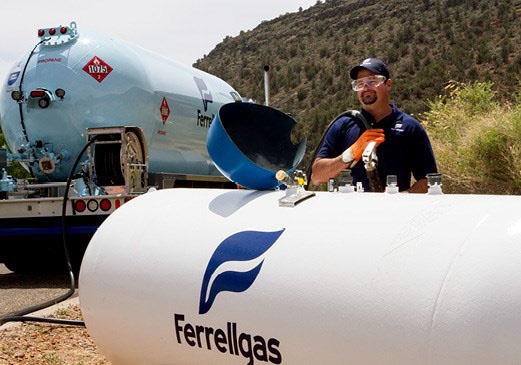 Safe operations begin with safe equipment
At Ferrellgas, we're proud of our comprehensive approach to safety. Whether it's keeping our vehicles well-maintained through regular maintenance, or checking that our facilities are clean, welcoming, and up to code, we make sure we take all the necessary steps to ensure that safety is a part of everything we do. Bottom line, we know that safe operations begin with safe equipment.
The bobtail delivery vehicle
You may know "bobtail" as a term to describe when an animal tail is cut short, but in our industry bobtail is the unique name given to trucks that make bulk propane deliveries. Our bobtails simply refer to a tractor that is driving without a trailer attached. Impress your Ferrellgas driver with this fun fact next time you receive a delivery!
Are propane delivery trucks safe?
Propane trucks come with many of the same modern innovations and safety features of today's luxury cars and are a safe addition to interstates, state highways, and county roads everywhere. When you combine that with our certified drivers who are committed to the highest levels of customer service, you realize why Ferrellgas is the nation's leading propane company.
Driving a propane truck is a great career choice!
Ferrellgas drivers are kind of like your local mail carrier. They can be counted on to deliver in snow, rain, or just about anything else thrown their way. They have the confidence to do so thanks to the safety of the equipment they operate and the quality of the training they've received.
Our drivers are the face of Ferrellgas to thousands of valued customers across the country, and we're always looking for new people to join our winning team! We have both full-time and flexible part-time positions available to candidates with a valid commercial driver's license. Interested in joining the Ferrellgas family? Check out our current openings and apply today!