Seeking meaningful work this winter? Look no further than Ferrellgas!
If you're looking for meaningful work this winter, there are loads of seasonal and full-time job opportunities currently available at Ferrellgas and Blue Rhino.
Like many businesses across the United States, we're preparing to take on the demands of the winter season. And for the propane industry, there's no busier time than the next few months.
At Ferrellgas and Blue Rhino, we pride ourselves in having the absolute best customer service structure the industry has to offer. Just ask our customers. As the second leading propane supplier in the country, Ferrellgas locations are plastered amongst hundreds of communities nationwide, providing neighborly assistance to satisfy all our customer's propane needs.
We've been successfully providing propane to residential and commercial customers for more than 80 years. Founded in 1939, Ferrellgas has a long and a strong history of dedicated employees getting the job done for its customers.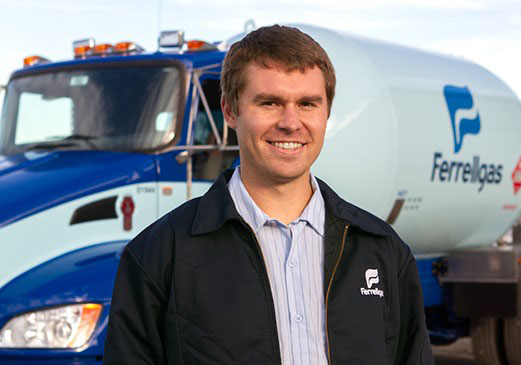 If you're passionate about creating business relationships and maintaining customer loyalty, you're already a strong candidate to "be a name behind the flame" and part of the Ferrellgas family.
From driving positions to customer service roles, we may have the perfect job for you.
If seeking a driving role within our Ferrellgas and Blue Rhino teams, you must have a valid Class B or Class A Commercial Driving License (depending on the specific position) and meet all position requirements found on our jobs page. Most seasonal driving roles prefer previous truck driving experience and require a good driving record and the need to physically lift as heavy as 60 pounds in all weather conditions. Our Customer Service Specialists typically require one year of customer service experience.
Ferrellgas and Blue Rhino Drivers and Customer Service Specialists are the face and lifeblood of the company. They're the ones constantly interacting with our customers face-to-face. If you have a knack for closing a sale or making someone's day, these are the types of characteristics we're looking for.
We are proud to offer competitive benefits to all employees – fulltime and seasonal. New hires are eligible for benefits like paid time off (PTO), access to a 401(k) with a company match, propane discounts and more!
Why work for Ferrellgas?
It's simple. When you become a name behind the flame, you're not just joining Ferrellgas. You're joining a family. Ferrellgas and Blue Rhino is in the business of providing meaningful moments for employees and customers alike.
Ferrellgas, consistently ranked as one of the top propane companies in America, has previously made appearances on "top employers to work for" lists – including Forbes' Best Employers in America in 2017.
So, don't delay, apply to become a part of the family today!
For more information on "Life at Ferrellgas" follow this link.