Spoil mom through the power of propane on Mother's Day
For many of us, the bond that we share with our mothers is irreplaceable. From the countless games she's attended, to the numerous life lessons she's taught us, mom will always have a special place in our hearts. That's why each year, we dedicate the second Sunday of May to the women who have helped all of us become the people we are today. And though we know they deserve to be celebrated each and every day, Mother's Day remains extra special for us. So on this Mother's Day, treat mom to the best day she's ever had with these nifty propane-powered ways to pamper her!
5 propane-related ways to treat mom to an excellent Mother's Day
1. Surprise mom with breakfast in bed
There aren't many better things to wake up to than a full breakfast from the comfort of your own bed. Giving mom the opportunity to ease into her big day with a delicious spread of her favorite breakfast foods sets the right tone for all the festivities you may have planned later. Making this Mother's Day meal goes over even better when you've got a propane-powered stovetop or range. Cooking with propane has plenty of benefits, the most important of which is heat control. For someone who may not be a natural in the kitchen, a propane range allows you to cook those hearty strips of bacon and tasty eggs at the desired temperature – avoiding overcooking and an awkward look from the woman of the house after she takes her first bite.
2. Take those pesky chores off mom's hands
The last thing mom wants to do on her big day is a pile of laundry left over from the week. Be a dear and score some points by letting her get some much needed rest and relaxation over the weekend while you handle those dirty clothes. In a home fueled by propane, being on laundry duty is much easier, especially when you reach the drying phase. As our friends from the Propane Education & Research Council tell us, propane clothes dryers offer faster drying that's easier on fabrics, produce fewer wrinkles, and deliver greater energy efficiency compared with electric models. So if you're considering a gift that will make life easier on you, you can't go wrong with a propane clothes dryer.
3. Grill mom her favorite meal
Nothing says love quite like a well-crafted meal on the grill. With many parts of the country now starting to enjoy the late spring and early summer temperatures, a backyard barbecue is just what mom ordered on Mother's Day. Much like propane stovetops, propane grills give you the precision of temperature control when making delicate foods like steak. Having a cookout on Mother's Day also offers the opportunity to try dishes you and the mom of your household have been wanting to get to, but never had the chance to. The grilling experts at Blue Rhino have you covered with hundreds of delicious recipes made for any occasion, budget, or timeline. So start preheating that grill and let us know what mom thinks of your culinary skills!
4. Draw mom a soothing bubble bath
The name of the game on Mother's Day is R&R. Let mom soak away all her worries with a warm bubble bath. This is your time to shine by going the extra mile for her. Bring out the candles, play some soft music in the background and make sure the water is at the perfect temperature. You can achieve this through a propane-powered water heater. Did you know that a 40-gallon propane water heater delivers the same amount of hot water as a 50-gallon electric unit? While that may not be a fact worth repeating to mom on her big day, she'll be happy you took the time to think about every last detail.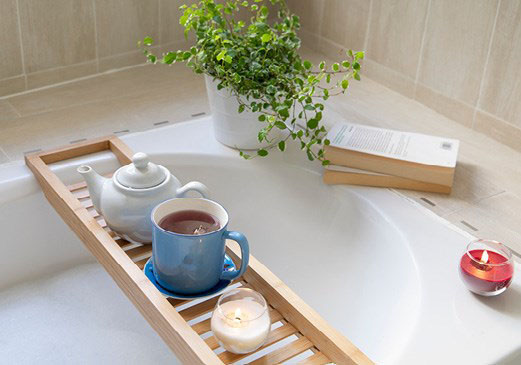 5. Watch the sunset with mom by your patio heater
As day turns into night, cap off this Mother's Day by catching the sunset or sitting underneath the stars while your patio heater or fire table radiates some much needed warmth to you and mom. The ultimate backyard accessory, propane patio heaters and fire tables go a long way in setting the ambiance in your space. On chilly nights where temperatures can dip drastically from their daytime highs, a little warmth from your patio heater will put mom right at ease and have her thanking you for making this day one she'll never forget.
Contact Ferrellgas for your propane needs
Don't sweat it! This Mother's Day is going to go off without a hitch, and Ferrellgas is here to make sure you're prepared for whatever life throws your way. Get in touch with your local office to learn more about the many propane solutions we offer, or let us know if you need a fill and we'll stop by in no time to let you get back to pampering mom!