Strengthening our sense of community
For more than 80 years, Ferrellgas has been serving families across the country, providing them with the propane they need to fuel their daily activities. Whether it's something as simple as drawing a warm bath for the kids or heating soup over the stove on a cold winter night, employee owners at our local offices are proud to fuel what matters in the lives of our customers. It's why, over the course of our company's history, one of our most important guiding principles has been to put our customers first.
Part of putting our customers first is investing in the communities we serve, and what better way to do that than to throw a party, invite the town, and give back to a good cause? Often held in the summer months, Ferrellgas customer appreciation days provide our customers with the opportunity to refill their grill cylinders at discounted prices, enjoy free food and drinks, and get to know the local team a little better. Simply put, it's a way for us to say "thanks" for choosing us to be your hometown propane provider.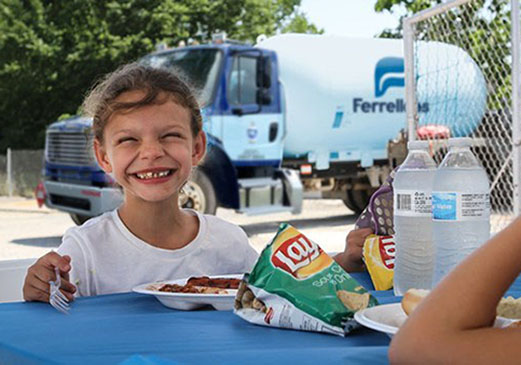 But celebrating our customers doesn't stop there. Ferrellgas is also proud to partner with local charities and community organizations to split profits generated at customer appreciation day events. Recently, our Topeka and Ottawa, Kansas locations held their annual customer appreciation day, which featured an appearance from Prairie Paws, a local animal shelter that brought puppies for both kids and adults to play with. With the help of the community, Prairie Paws received a sizable donation to help feed and shelter more animals in the area.
Though these events only happen once a year, they're eagerly anticipated by customer and employees alike. We're honored to serve our customers in tight-knit communities across America and enjoy taking the time to thank them for their business. Our hope is that through events like these, as well as our everyday interactions, we can let our customers know that we value them for more than the simple transaction of selling propane.
To find a customer appreciation day event near you, visit the Events tab on the Ferrellgas Facebook page, or contact your local Ferrellgas office.